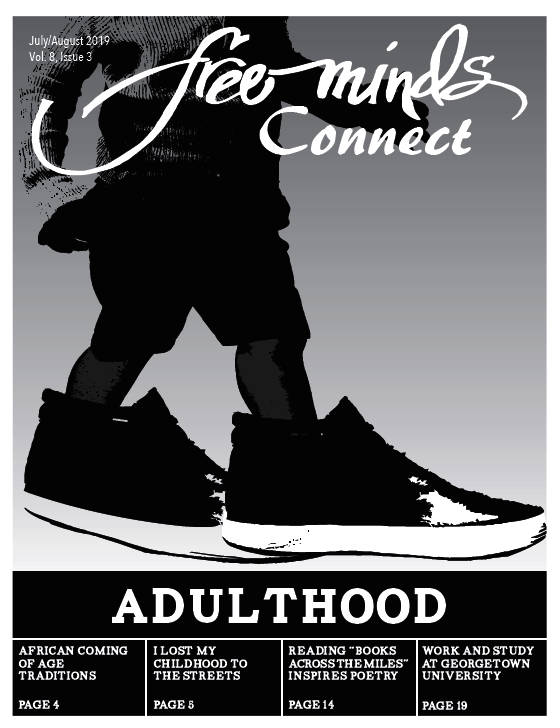 Over the last seventeen years, Free Minds has seen hundreds of incarcerated youths "free their mind" through reading and writing. We are so thankful to have you be a part of our member's growth, betterment, and invaluable circle of support!

Our Prison Book Club has proven to be the bit of hope and light for our members who are currently miles away from home. Every day, our members write us to tell us how much they appreciate receiving books, cards, words of encouragement, and our monthly newsletter, the Free Minds Connect. Here are some excerpts from letters with "attitudes of gratitude:"

"I received the latest Connect and enjoyed the contents. I love to hear other people share their story because it lets me know I'm not alone. I love the politics and the news of the world. The poetry is art and I love to hear the progression of the organization. As a whole, the Connect keeps me at peace." - Free Minds member Sanchez
"I appreciate all of the support you guys have showed me while incarcerated in federal prison even from when I was a youth...I look forward to my books, postcards, and letters from you guys. I don't think I told you guys that y'all are one of the reasons I started writing music. The advice and feedback y'all would give me when I was on the juvenile block made me realize that I have a talent and a story. I want to pursue moving forward with my goals and plans that I created while in this predicament." - Free Minds member Antonio

Books Across the Miles: Long Way Down
Votes are in! Our Free Minds members have chosen to read New York Times Best Selling Author Jason Reynolds' Long Way Down, a fictional story of story about 15-year-old Will who is haunted by the "ghosts of gun violence" after wanting to seek revenge on his brother Shawn's murderer. On an author visit to the DC Jail to speak to our 16 and 17-year-old members at the DC Jail last August, Reynolds shared, "I wrote this book speaking to my 16- and 17-year-old self...Why violence? No one ever tells us what to do with the pain." While Long Way Down makes its way across the miles through the mail, we are still receiving feedback on Angie Thomas' The Hate U Give, a fictional story of a young woman named Starr and her childhood friend Khalil, both black, who leave a party together and are pulled over by a white police officer who kills Khalil. Here is some feedback:

"Lisa [Starr's mother] reminds me of my mother. As long as I can remember, my mom's life focus was and is her children. Every move we made was an upgrade in living conditions as well as safety. I don't fault Lisa or any mother for wanting the best for her child, you can advocate from a distance. You don't have to be in the skillet to know it's hot." - RB

Feel free to read along with us. We would love to have you join the conversation as well!
Connect: Adulthood
In the latest issue of our newsletter, the Free Minds Connect, our members, staff, and volunteers shared their thoughts — and poetry— on the theme, "Adulthood." In this issue, you'll find the following:
A personal essay written by Free Minds member Nick that explores how growing up in areas of high crime can expose children to PTSD, as well as strip them of their innocence and childhood at an early stage of life. Page 5
Free Minds member Davon recounts the common misconceptions children have about what it means to be an adult. Now a working man in his early 20's, Davon commits his time to helping others, fulfilling his responsibilities, and making the right decisions. Page 10
Free Minds intern Ben explains the coming of age traditions of Latin America, the Jewish community, Japan, and the Amazon Jungle. The journey from childhood to adulthood is full of challenges—so why not celebrate it? Page 16
Free Minds intern Ben highlights important changes to the Youth Rehabilitation Act, a new DC law that may allow members to have their criminal record set aside after completing their sentence. Page 17
We are thrilled to have you witness our members exploring their creativity through books and writing. Thank you for making all of this possible!