This winter, we're reflecting on the highlights of 2018 and looking forward to 2019. We couldn't do this without you, and we're so grateful to be part of a supportive community of people who believe in the transformative power of the literary arts.
Around this time of year, many of our members tell us that they struggle with feelings of isolation and loneliness because they are separated from their families, and many do not get mail from anyone but Free Minds. That's why we make it our mission to keep everyone connected to the Free Minds community, no matter how many miles and prison walls may be between us.
This month, we sent New Year's cards to all of our members who are incarcerated in federal prisons far from home. Thank you to all of the supporters who made this possible!
Free Minds member Alazajuan recently reminded us of the importance of this sense of connection and belonging: "I love and respect you guys to the fullest. When y'all send books, mail and comments on my poems, it makes me feel special, smart, and like I belong to something. Prison is a lonely place and your thoughts shape your world. Free Minds Book Club makes me want to be positive, lead, and encourage others to change for the better."
Books Across the Miles: Journeys
This quarter, Free Minds members have been reading and reflecting on Bastards of the Reagan Era, a collection of poetry by formerly incarcerated poet (and Yale Law School graduate) Reginald Dwayne Betts. Here are just a few of the responses:
"In the poem "Bastards of the Reagan Era" on page 15, the author finds himself on a journey to a Virginia prison, a journey through life in the streets. These journeys represent significant moments in the author's life because some are reoccurring that this may very well be what almost broke him. History haunts us all because we are all products of the drug epidemic. It has affected us all in some way, shape or form. From the ones who sell the product, to the individuals who purchase the product. To the children at home starving, or living in a single parent home. We all are affected." - AL
"Mr. Betts book of poetry is deep and very realistic. This literature should be read and studied by those who wish to understand what the street mentality consists of before taking actions to improve street (and prison) conditions. I really can relate to the poems on pages 56-60 and pages 61-67 because I've spent a lot of time in the prison system and take Mr. Betts' words and insight to heart." – JL, referring to poems about street violence, loss, and incarceration
"My favorite poem in this book is "What We Know of Horses." I can relate because in a sense I am his brother. I deal with the reality of this living casket (prison) every day, yet I find peace amongst the many memories of my neighborhood." – AL, referring to a poem about the author visiting his brother in prison
Meanwhile, Free Minds members have been exploring the theme of journeys in their own lives for the next issue of the Free Minds Connect, our bimonthly newsletter mailed to youths and adults incarcerated in prisons all over the country.
One Free Minds member, JG, reminisced about the journeys he has experienced through reading books like The Autobiography of Malcolm X and Standing at the Scratch Line: "I've lived vicariously through numerous people and the benefits have been many and more. All of my mental journeys by way of books have nourished me, uplifted me, and left me with a sense of mental freedom I've never known. And where the mind goes, the body must surely follow."
Another Free Minds member, MS, opened about his journeys as a writer: "My journeys in writing have been one of years treading along the paths, byways, switchbacks of the majestic wilderness called life. After all this time, I've finally found stable footing; I've finally shared my voice with others beyond the walls of self. I have found people who want to hear what I have to offer, and in and of itself, this is a new experience for me: Acceptance."
Look for the next issue of the Connect, exploring the theme of Journeys, in January 2019!
Sharing Their Voices
In addition to the Connect newsletter, Free Minds members have been sharing their voices with a national audience through publication!
Free Minds member Immanuel published two poems in the latest issue of Iron City Magazine, a literary journal dedicated to amplifying the voices of those directly impacted by the prison system. Meanwhile, Free Minds member Gary won Honorable Mention for Best Poem for his poetry that was published in BleakHouse Review, a literary journal from American University.
Congratulations to Immanuel and Gary!
Other Free Minds poets continue to share their voices with the outside community through our On the Same Page: Write Night program, in which volunteers from the DC region and beyond gather to read and respond to poetry by incarcerated Free Minds members.
Free Minds member JKG, in a letter from federal prison, wrote, "The responses always touch me because it is important to me to be understood and also to be recognized especially in an environment where identity is attempted to be stripped from us."
Thank you for helping us build this supportive community, and showing JKG that we will always be there to hear him and recognize him as an individual, a reader, and a writer.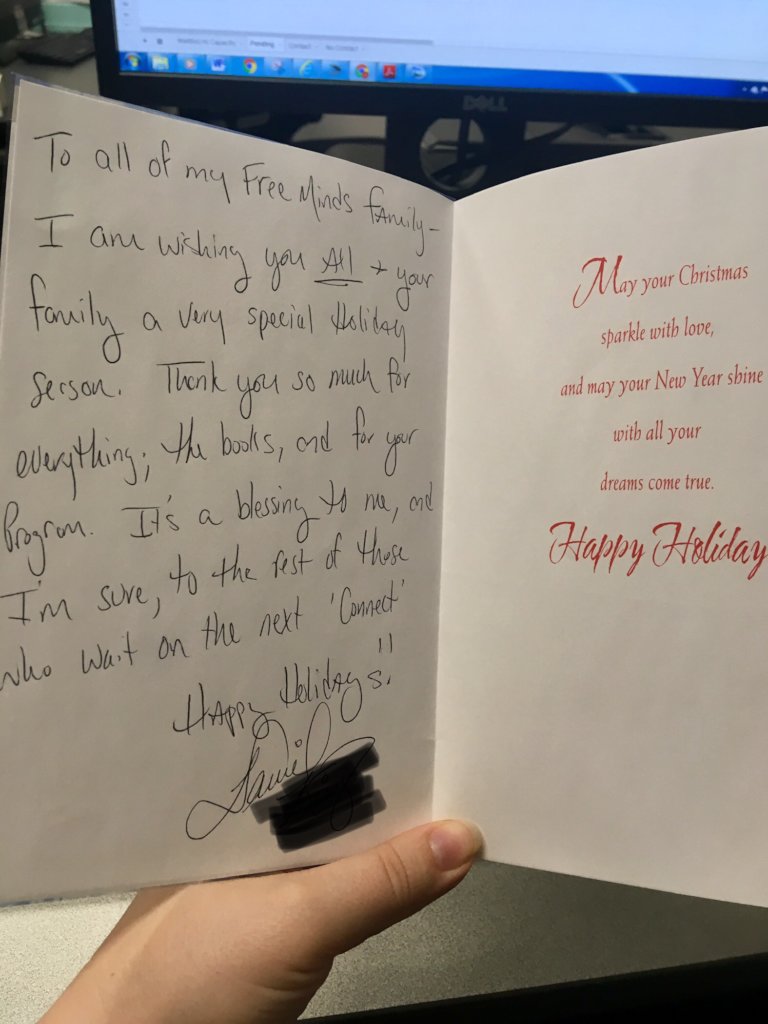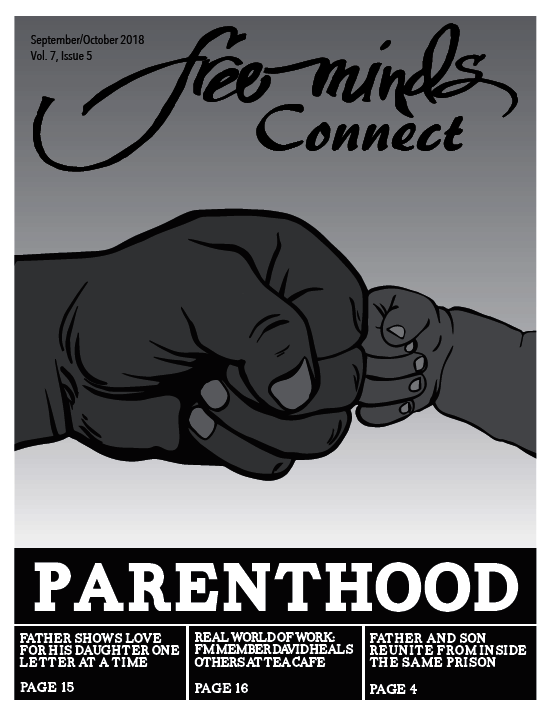 Links: