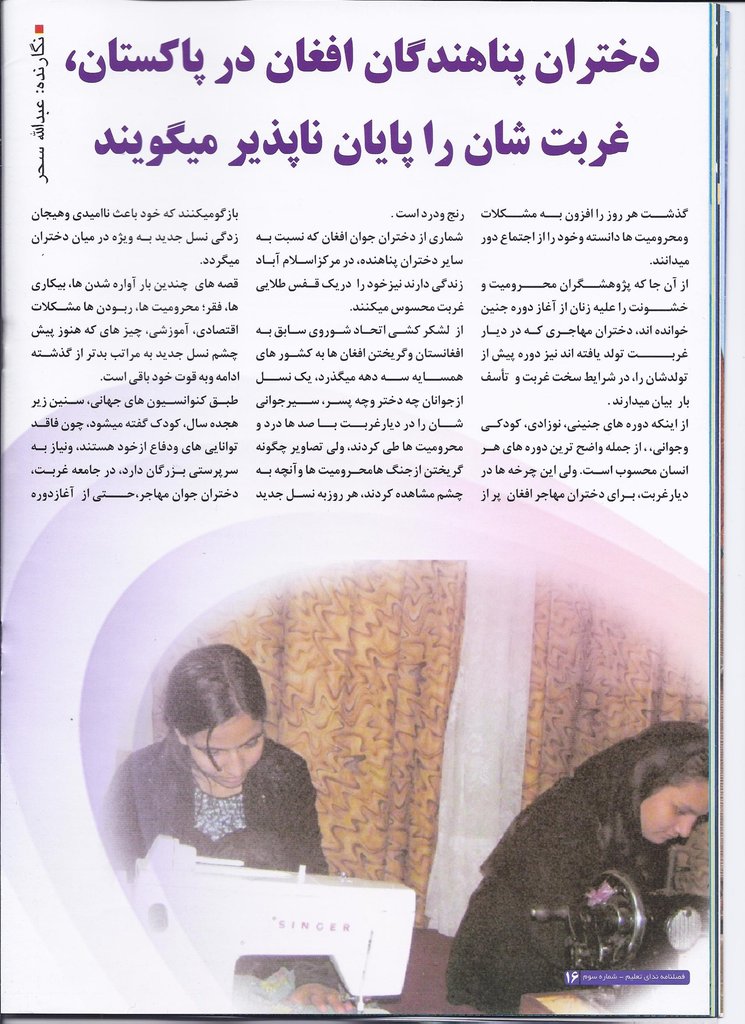 Improving rates of literacy is crucial to the development of Afghan society and crucial to individual families as they strive to improve their life circumstances. AIL's project to provide books is part of its overall literacy program.
The calligraphy book published by AIL has proved very popular with students who have found it useful for learning this historic craft. 1,000 books were distributed to AIL learning centers and 800 books to private and regular schools and 600 books to the Ministry of Education and finally 600 books to AIL Kabul and AIL Pakistan . Here are the comments of one student:
"My name is Hamidullah and I am a high school student. I had been always ashamed with my handwriting because I didn't know the rules of writing. It was until I found a book that was published, printed and distributed free by AIL. This book really helped me to improve my handwriting. All rules of calligraphy were explained very clearly by examples and that was very interesting for me. It is a self-study book so that everybody can learn as fast as possible. My handwriting developed quickly in a few weeks of practice with this book. Now I have very nice hand writing which I had never imagined I could have before. I really enjoy when I write something on the paper with ink or pen. Besides, I learned a lot about calligraphy which I am proud of. I thank AIL for changing my hand writing."
The Citadel Library in Herat, supported by AIL continues to attract people with visitor numbers per month remaining in the 350 range. AIL's magazine remains an ongoing publication covers a variety of subject matter and most recently included the topics of education, health, the role of women in change, peace, democracy, justice, advocacy, ideation, entrepreneurship, cultural issues, social affairs, business, economies, administration, leadership, art and entertainment. These magazines are very popular and passed around frequently. This is another way to provide variety of reading matter to people who have very limited access to printed matter other than the textbooks they use in class. AIL distributes its magazines to its centers in Herat, Kabul and Peshawar and to schools, in addition to governmental organizations, ministries such as education, information and culture, social affairs, economy, agriculture and to the health sector such as clinics.
Attached to this update is our year end newsletter. We hope you will take a few moments to look it over.
Attachments: