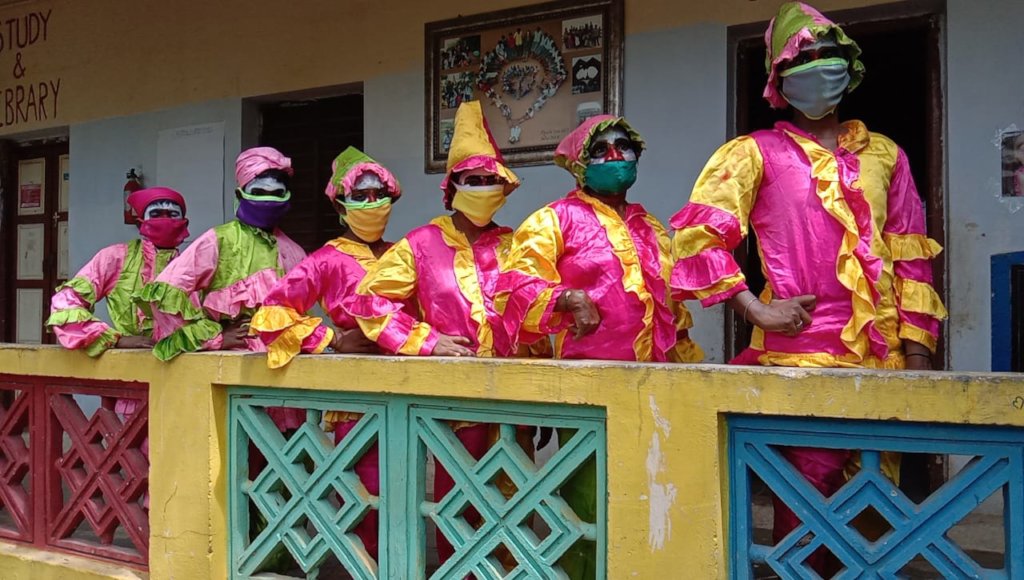 Dear Friends,
On behalf of all the children and the team of Dayspring Home, we would like to give you a very special thank you for helping us in these difficult times. As you all know, the world is facing a global crisis and the situation in India is very complicated. It is thanks to your continuous support that we have been able to keep on providing medical check-up, nutritious food, and social support to the children in our care. Even though our daily lives have been very affected by the coronavirus, we want to share with you what happened at Dayspring in the past months, with some COVID updates, but also with some more positive news.
The new sheds
In our last note, we talked about the rebuilding of the shed we lost during the fire. To ensure the well-being of the workers and our vulnerable children, we halted the construction from the end of March to mid-April. We are now happy to announce that we have been able to finish the sheds and move the chickens into their new home! This will protect them from predators and allow Dayspring Farm to securely expand its breeding and sales of country-bred chickens, increasing our gross agricultural output and revenue.
Heavy rains
In May, faced an unprecedented week of rains during the searing Indian summer. This provided a much-needed respite from the heat, but further halted the construction works, and the deluge washed away part of our driveway and valuable silt and sand building materials.
Ayyar birthday
We have also celebrated the birthday of Ayyar. Despite the weather, a couple came from Virudhunagar to bring a cake and celebrate the young boy being a year older. Ayyar, we wish you a long and thriving life!
EduClowns with the children
You might already be familiar with EduClowns, a theater group connected to Blossom Trust, which offers an alternative method in educating the public about health-related issues. This time, wearing full clown costumes and makeup, it was the children of Dayspring Home who acted in a video clip to raise awareness of coronavirus and the good hygiene and distancing practices to avoid its spread.
The new road
The road connecting Dayspring farm and the main road had become dilapidated, with minimal ground coverage and exposed rocks due to a high number of cars and cattle using it. The children were also playing along this road. To ensure the security of the children and the other people using the road, we decided to have it repaired. It was leveled and resurfaced with compacted sand. The children can now play cricket and ride bikes along the road safely, and likewise, cattle and vehicles can use the road efficiently.
COVID19
Dayspring
The impact of COVID19 is quite significant in our community and Dayspring Home. Our primary concern is on the health of our vulnerable children; as many already have existing health conditions, they are at risk of serious systemic complications of COVID-19. We are making sure to limit the interactions between people inside and outside Dayspring. Food security is also an issue, as prices are becoming higher and food availability is shrinking fast. Now that the planting season has started in India, we are growing spinach and moringa trees that are full of iron and vitamins for the children.
Blossom Trust
In the meantime, we have also launched a new project with GlobalGiving to help mitigate the crisis for vulnerable households in Chennai. We are working there, in collaboration with the government, to help identify affected households and decrease. community transmission. Moreover, we are distributing food rations and hygienic packs to people who are the most affected in need. You can learn more about it and support us by following this link: https://www.globalgiving.org/projects/covid19-bring-relief-to-vulnerable-households/
Thank you and stay safe!
Thank you again for your support - there are no words to express the gratitude we feel. You are helping us make Dayspring Home a safe and prosperous home for vulnerable children. Finally, we want to announce to you the arrival of new children to our designated home. Thank you for believing in us and making it possible to welcome other children in need. We hope you are all safe, and that the situation will improve soon. We will continue to keep you informed on how your money is being used and other ongoing activities of Dayspring.
With best wishes and our sincere gratitude,
Mercy Annapoorani, the Blossom Trust Team & the children of Dayspring Home