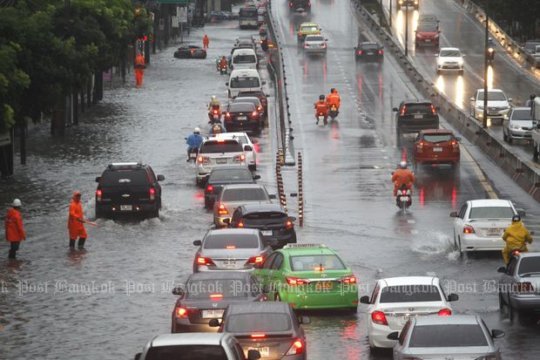 Taking a Stance of Readyness
While some volunteers of the Foundation were busy planning and organising for supporters to come together to knit the Winter Hats (or Beannies), the land of Thailand faced the coming onslaught of the rainy season.
Downpours triggered by tropical storm Mujigae has caused 32 provinces to be put on alert. Residents were warned about heavy downpours , possibly cause flooding, runoff and landslides. Of the 32 provinces, 13 are in the North. In the province of Phitsanulok, where one of our volunteers reside, she was also on the lookout for any changes in the river level, because that's where the usual floods would take place.

Ever ready for an emergency, Saenchan told us, "Any time that you need help, just let me know, for I have made myself available."
Meanwhile further south of Bangkok in Ratchaburi, continuous rains caused water levels in a crocodile farm's pits to rise, and 6 baby crocodiles escaped while workers were draining excessive water into a nearby canal. 4 were caught and 2 are still at large. (as reported by the Nation)
These are some of the dangers locals face, when the rainy season bring with it the floods. On top of this, families whose members consist of the elderly or the very young, has to contend with diseases that arise from being in water all the time, or from contaminated drinking water and unhealthy and damp living conditions.
Therefore, the Foundation has to be on the alert for any help that might be needed, taking a stance of readyness , for any emergencies that we can assist the needy in.
As such, the Foundation is thankful to all donors who enable and empower us to be channels for blessings to others.
Any feedback is most welcome to aid us to serve others better.