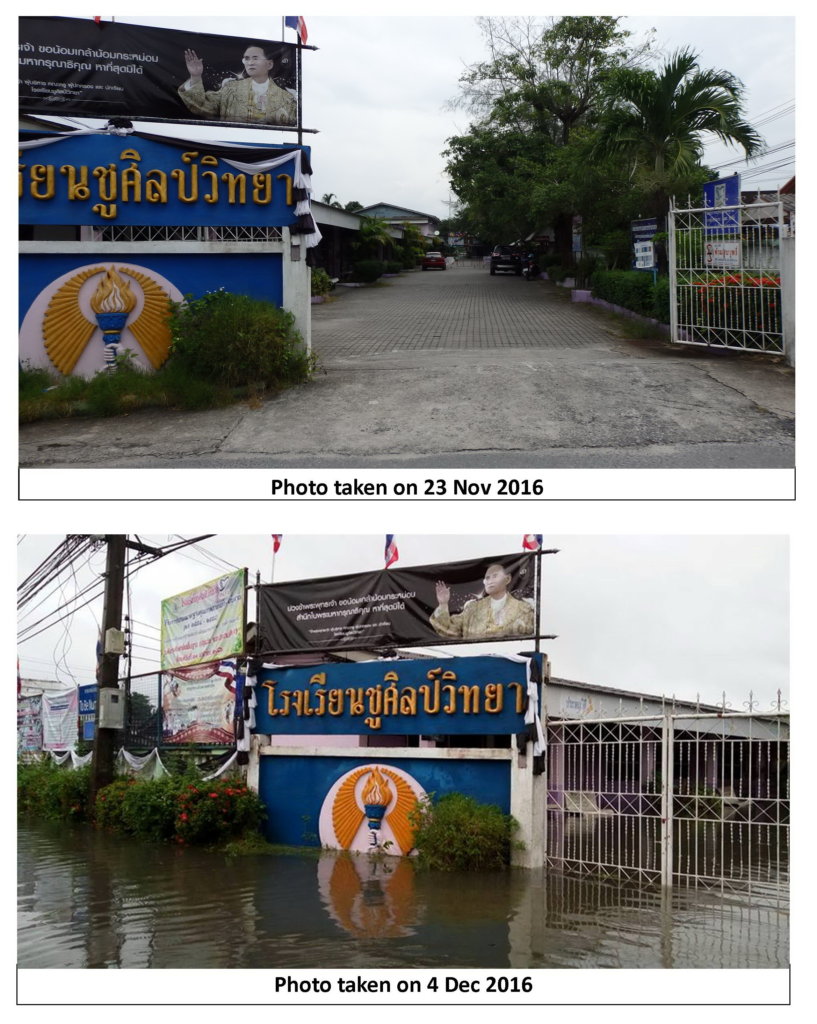 Brief background on the Raincoat Project
The Raincoat project was initiated by our Volunteer and part-time staff, who had kidney problems, needing dialysis 3 times/wk. In the last 3 months, she had to undergo an operation and she took about a month to recover, which was lots of ups and downs for her physically.
When she was better, about 3 weeks ago, she got enough strength to go and buy the raincoats, which we sent down to Nakhon Si Thammarat province, to a small and rather poor school there.
On 19 November, while we were organising a national event for our members in Chonburi, we got the sad news that Jo had suddenly passed away. This was the last project that she had intentionally wanted to see done.
Updates
On 22-23 November: 3 volunteers and a staff flew down to the south to visit the Choosin School there. They reported that it had rained heavily few days before, but for the 2 days that we were there, it was sunny and hot.
In addition to the raincoats, the Foundation also added "Riceberry" rice for all the teachers and staffs, together with a notepad for all the children, as well as a special Mana rice for the school (this rice was specially produced with added protein and vitamins for the needed nourishment)
I was impressed that the school even took in a group of autistic children to help them integrate to mainstream.
On 4 December: the school told us that the floods that was reported in the local Thai news, has affected their school too. The run-off from the mountainous region and the heavy rains has drained into the lowlands on the way to the sea and were blocked by elevated roads, causing flooding to the main township.
The raincoats had come in handy at a time the kids needed them, but unfortunately, the school has to be closed because the grounds are in water. The local authorities are trying their best to alleviate the problems there. Meanwhile, the school cannot do very much since the whole province is inundated following 6 days of heavy rainfall.
Urgent Action and Help Needed:
In view of the suffering that the school will face when the flood waters subside.... all the cleaning and the expenses that will be incurred for the repairs of the school, our Foundation will attempt to raise funds to help them out for their after-flood rehabilitation.
Our heart goes out to them, for this Christmas will not be so merry for those living there in Nakhon Si Thammarat.
We appeal to you, our supporters and partners for your generosity towards this purpose and thank you in advance for making this Season of Giving a truly meaningful Time!
Thank you once again!
Have a Merry Christmas and a happy New Year!
Vena