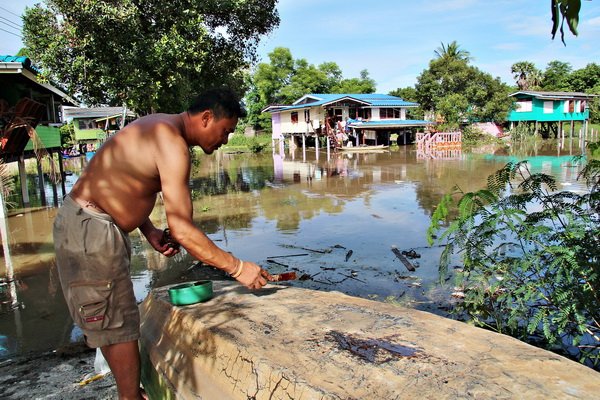 Updates on Flood situation in Thailand
It is 23 September ....
and there has been reports in the past 2 weeks of Tropical Storms and Depressions in the areas affecting the South China Seas and as these storms pass by, it has been bringing lots of rain into the North, and North-eastern areas in Thailand.
The provinces of Nakhon Ratchasima, Surin, Si Sa Ket, Ubon Ratchathani, Kanchanaburi, Nakhon Nayok, Ayutthaya, Ang Thong, Sing Buri, Lop Buri, Nakhon Sawan, Phitsanulok, Phichit, Kamphaeng Phet and Prachin Buri provinces have been hit with landslides and flooding since Sept 18.
Everyone who has had experienced the horrors of the great flood in 2011, are anxiously preparing for any emergencies that may arise from either flash floods from the run off from the hills, or the overflowing of the banks of the major rivers.
There also has been news that the overflow from the Chao Phraya River on Sunday flooded communities on both banks in Muang and Sam Khok districts of Pathum Thani, just north of Bangkok, which saw some residents making preparations in the event of a disaster.
30 September ...
The Thai Meteorological Department has been warning of the Tropical Storm "Wutip", which was expected to bring in much rain and wet weather conditions to the North-east and Northern provinces. In fact one of our contacts in Phisanuloke has already reported of flood to a height of 1.5 metres near the banks of the Wangthong river.
6 October....
Our contact volunteer who lives in Phisanuloke, has herself been affected by the floods in Wangthong for a week now. She related: "The waters came and increased to a height of 1.5metres. We have can only gain access to our house by a make-shift bridge. The mushrooms we were growing for extra income has been destroyed"
The Foundation sent emergency help to Saengchan and also aided the neighbouring families in the same dilemma with emergency foodpaks.
We are indeed grateful to all our donors for your sacrificial giving, without which we would not be able to help Saengchan so quickly in her time of need.
Any feedbacks and comments to better our services to the needy are most welcomed.