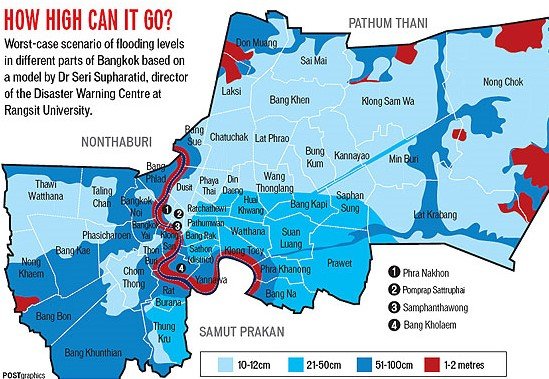 Lastest Upates (26 Oct):
The capital of Bangkok has already started flooding in the northern areas and many housing estates are underwater.
Even the Evacuation Centres have been inundated with water, as the floodwaters travel down from the north, causing thousands of evacuees to be relocated AGAIN (in the last 2 days) to drier grounds. The fear is that there may be no more dry grounds available before long, for relief work to be carried out, especially in the capital city (the hub for governance, commerce and transport). Even hospitals are starting to move patients to hospitals in Hua Hin (about 150 km from Bangkok) and north-eastern regions (about 500km)
Volunteers are now victims themselves, help is reduced as transport and food supplies are hindered.
AS filthy flood waters infiltrate the canals that carry drinking water, there have been reports of yellowish tap water with smells in certain areas in Bangkok. There were also rumors of household water supply being cut, though the authorities have reassured that water supply will continue despite the floods.
Mayor of Bangkok said that City Hall can no longer strengthen the embankments stretching more than 86km along the river banks as it will take more than 10 million sandbags in a limited period to do the job!
As a result, 27-31 Oct has been declared Public Holidays, when the tide would be highest and residents were advised in a televised announcement by the Prime Minister, to leave for upcountry provinces, so as to reduce the load in the capital.
Yesterday heavy and widespread downpours were seen over Bangkok, causing increase flooding, even hailstones and electricity cut-offs in some inner city areas.
Transportation Routes: 77 main highways , 200 rural roads are not passable and all the north-bound railway routes are still cancelled.
To date: 373 deaths
On the grassroot level, households are franctically trying all ways to protect their homes from the floodwaters, by lifting equipment to higher levels, getting plastic wrappings to protect their electrical appliances, sealing their doors and drainage pipes from the infiltrating floodwaters, whereas flooded victms wait for help, and uncertain if they should leave their homes or hope for floodwaters to recede quickly.
Your help in advocating for our relief work would mean that people get the help that they need.


Many thanks.