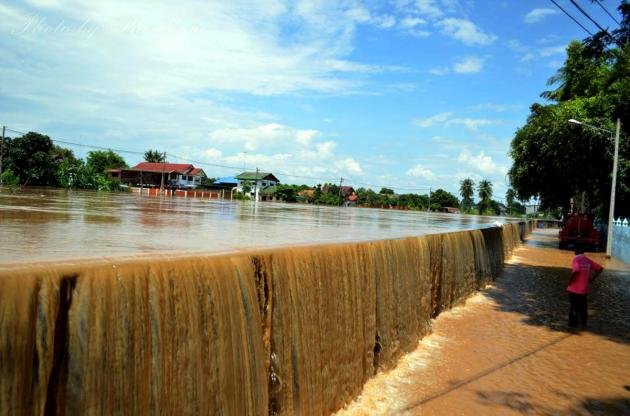 Eversince the devastation of the 2011 Floods in Thailand, the country has been on the alert for further flooding this year. The Government has spent billions repairing and improving infrastructures for flood prevention. Corporations that had their factories submerged in the flood waters have made preparations on flood prevention measures, in coorperation with the government.
Yet inspite of all these, when the rainy season started in July, and with the incoming tropical storms, the rivers started to swell and northern provinces experience flash floods, some lasting slightly more than 2 weeks, affecting businesses, schools and homes.
The lastest on the flood situation in Thailand is as follows: 15 provinces has already experienced the floods at present (24 September 2012), affecting 70,818 homes and 214,220 people.
On 24 Sep, we got news from our volunteer in Phisanuloke province, that the district of Bang Rakam is experiencing flooding. This is district is situated in the lowlands along the River Yom, and it receives water from the Sukothai province. Every year the Sukothai province will experience floods at least for 2 months of the year, and the Bang rakam province will thus be affected as well.
As a result the Foundation will be getting our volunteer there to survey the damages experienced by the families and to see what help is needed for them there.
4 October: Our volunteer had to go to the flooded area and interview the situation amidst transportation difficulties, buy and bring the food supplies right up to the doorsteps of those who were affected. She interviewed and gave out life-paks to 31 families who needed it most, and these victims voiced their heartfelt gratitude, as assistance came in timely, since most of them were daily waged employees who live from hand to mouth and the flood had affected their jobs as well.
Meanwhile, the Foundation has been on the lookout for those victims whom we have helped last year. The floodwaters are flowing southwards, nearing those who had been affected. We will be on the alert and will be watching out, ready to give assistance when needed.
The Foundation is grateful to all donors who have sacrificed your earnings, so as to help the less fortunate, who are unable to get out of the poverty cycle without outside help. We also welcome any feedback or comments that will enable us to better our services to those in need.
With sincere thanks.... from the Thai people