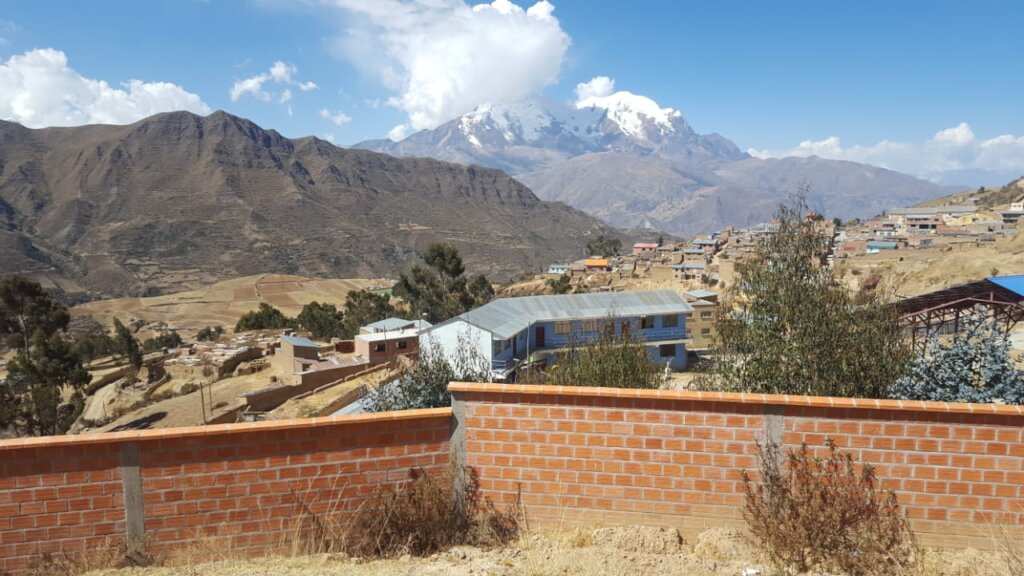 On a recent evening, Emma shared,
"Here we are well, and time has gone by so fast—it's November already. Thank God, there are not so many victims of COVID here in Bolivia just now.
In our project, we've been reducing the work of creating water purifiers, little by little, focusing on trying to install those that we've already fabricated. This last Saturday we installed two, the week before another. In fact, we're in the process of closing down this project. The forms to build them are getting old; to build new ones would be very costly, so the project has come to a natural point of closure. We have a plan to install 10 final purifiers before we end the project. In the last month we've done installations for 6 families, and there are four more filters built and ready to go.
This past Saturday we installed for two families in the little town of Palcoco, near the snow-capped Andes mountains. The final filters we hope to install in another small town, Huarina, which is near Lake Titicaca but in the mountains, where people don't have access to drinking water. We're hoping to install the last 4 filters there.
One of the young people who helps to both build and install the purifiers is Daniel. He participated in an event on climate change at the international level, giving testimony about his country and experience. This was a side event of COP26, on October 31, 2021. It made us really happy, because he could speak with great facility about how he understood climate change based on his experience with the project. When he goes to install filters for families, he sees the problem of lack of water, and the impact of seasons that aren't the same as they once were: times of too much rain, or great drought.
His experience working with the project for almost three years gave him the wisdom and strength to bear witness to how climate change affects our country, and the capacity to share those experiences and understandings clearly and powerfully.
This whole team has worked together for almost three years, and they have become leaders in this work. Today one of the team members went to on their own to pick up the project brochures at the Friends Bilingual Center, and then to talk with the family ahead of an installation. They were easily able to do that. They have all come to appreciate the importance of doing something, rather than sitting there with hands folded. Knowing what kind of project work is really worth doing, that's maybe something each of us can carry on. We share a commitment to doing project work that looks at an enormous, overwhelming reality of change and undertakes a small, concrete action.
Either this Saturday, as this report is posted, or the Saturday following, we hope to install the final filters. We will close with a celebration of the persistence and dedication of the participants, who have given the gift of clean, safe water to so many families, even in these difficult times. Today, we celebrate you, and your contributions, which made our work possible.
Our thanks to you, friends.