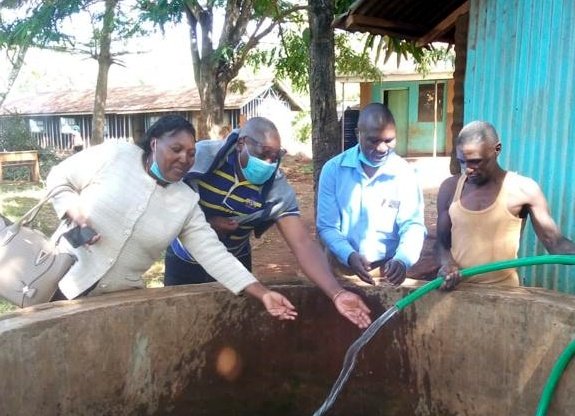 The photograph above shows Lucy, (Headteacher of Ena Primary School and Schools Coordinator for the project), Rotarian Peter (in charge of projects for the Rotary Club of Embu), Linus (Headteacher of Magaca Primary School) and Robert (the borewell digger) inspecting the water flowing at Magaca Primary School. This is the third well we have dug and was completed towards the end of February.
Thanks to your generosity and that of other supporters, in December's Accelerator campaign we raised over $17,000 in donations, prizes, bonuses and Gift Aid. Adding this to the funds we already had means we have raised enough money to dig all eight originally planned wells, plus sufficient extra to enable us to dig a further well and set aside a reserve fund for routine maintenance and repairs to keep these wells working for many years into the future. We have so far sent funds for six wells to our partner in Kenya, the Rotary Club of Embu (see photograph below), and they have been supervising and monitoring the digging of the wells, ensuring the money is well spent.
The digging has not always gone smoothly. At Magaca the first well site hit rock which could not be safely and economically cut through and so a second site was identified which proved suitable. The digging at Canon Herbert Ikuura also hit a rocky area but in this case it was possible to cut through and continue the well. Fortunately these incidents did not cause the wells to go too far over budget.
We have now completed wells at four of the eight schools planned – Ciamanda, Ena (see picture below), Magaca and Canon Herbert Ikuura. That means about 1,250 children now have access to a reliable supply of fresh, clean water and no longer have to spend time walking to local streams to collect water for daily use. The well at Nyagari is nearing completion and and work has started on the next well at Kathari. This will just leave Karungu and Kathanjuri to follow. We expect to have all eight originallly planned wells complete by May.
Do take a look at our photo gallery for more pictures showing the digging of the first well at Ciamanda Primary School and the children using the water around the school. Also don't miss the video showing the children at Magaca Primary School celebrating at the official commissioning of their well.
Thank you once again for your support of this project.