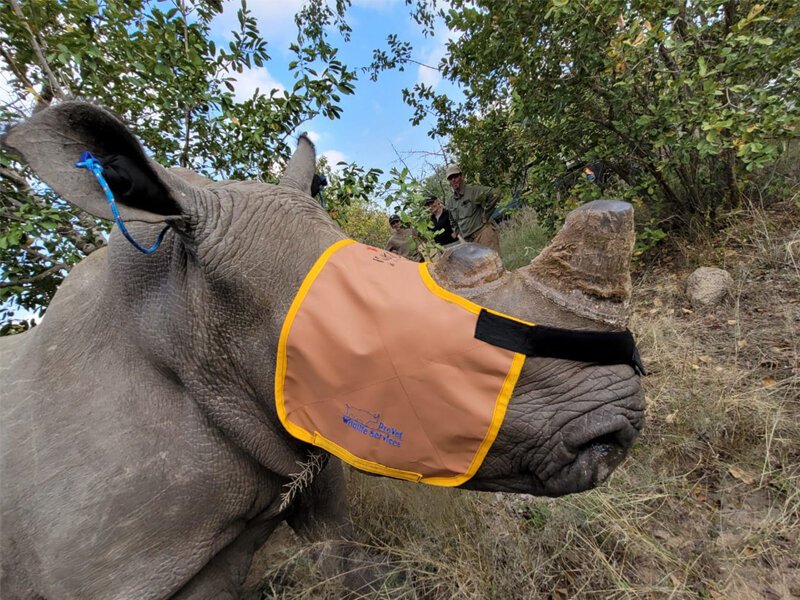 In October last year, we reported that Esmé was dehorned. This time, it was Khulula and Lula's turn.
We support the dehorning of the rhinos at the Hoedspruit Endangered Species Centre (HESC) as it helps to deter poachers. Of course, dehorning isn't a permanent fix because rhino horns are made from keratin like our fingernails and toenails, which means they grow back.
The dehornings took place over two days, with Khulula and Lula getting dehorned on separate days. Wildlife vet Dr Rogers was on hand to facilitate the procedures and he was assisted by other staff members, as well as the HESC curators, who ensured that everything could run as smoothly as possible, with the least amount of stress to the girls.
Khulula's turn came first, followed by Lula. In each instance, they were darted with sedation medication, given earplugs to minimise noise and blindfolded to reduce stress. A Jelco was placed into one of their ears to allow for medication to be administered if needed. The horns were then sawn off and smoothed with an angle grinder. The remaining stumps were oiled to prevent cracking. Once completed, the girls were woken and could reorientate themselves to go about the rest of their day in peace.
While these two dehorning procedures were sponsored, your contributions still make a huge difference, as the rhinos need to be kept safe, especially in the periods when their horns start to grow back. Apart from the anti-poaching units on site, regular maintenance to the electric fences and alarms needs to be done, which can run into large amounts.
Now with the winter months in full swing, Khulula and Lula are given lucerne bales each day to supplement their nutrition. Because they are left to their own devices in the bush, they mainly feed off the abundant green vegetation during the summer, but during the winter season, the dry ground and leaves do not suffice. Esmé is given lucerne all year round, as she is monitored more closely and doesn't have as much free reign yet to explore and feed.
Your support helps us to ensure that the girls are well taken care of and that one day, they can be released into the wild to live out what we hope will be a long, prosperous future. Thank you!