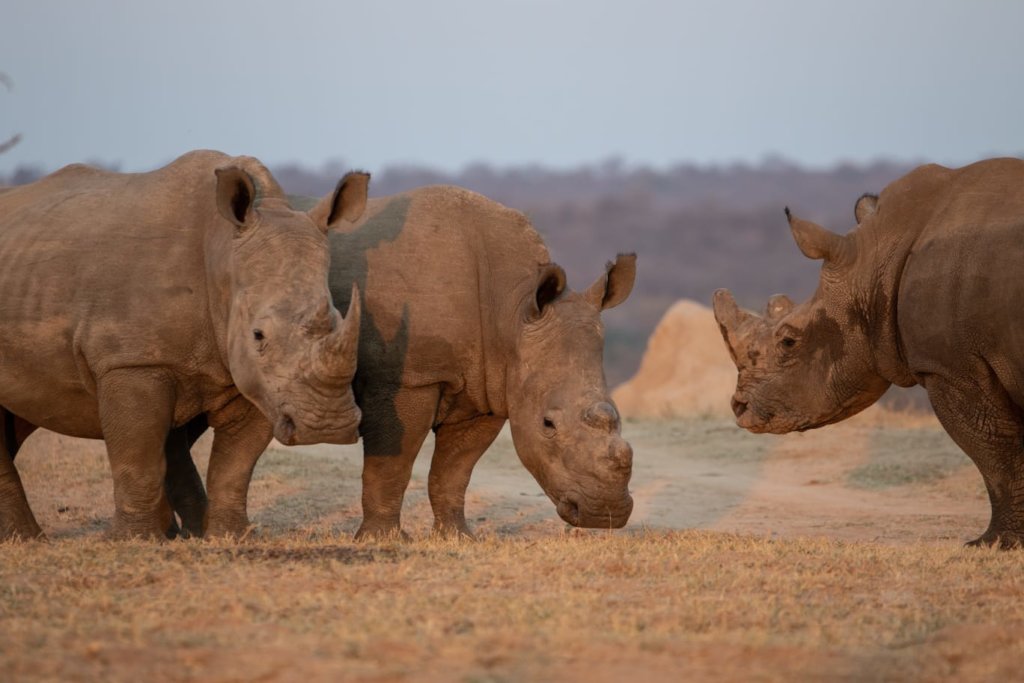 THANK YOU!
We would firstly like to say thank you to each and every person that has supported us. We have raised $22 970 to date. We also want to especially thank everyone that supported us on #GivingTuesday! Every donation no matter how big or small helps us get closer to our goals!
AN UPDATE ON THE RESCUED RHINOS @ HESC
We can proudly announce that we have successfully released another rhino.
Olivia was the seventh rhino to be released over the past year. She arrived at the Hoedspruit Endangered Species Centre(HESC) in April 2016 as a little four-month-old, scared and alone. She had been witness to the savage killing of her mother and was found next to the butchered carcass, orphaned by the heartless actions of ruthless rhino poachers. She was successfully released in September 2019, the same weekend as World Rhino Day.
News from the 6 orphans still in our care:
Esme seems like she is enjoying the last few rainy days and is more active and playful now. Overall, she is loving her me-time and time with Mielie, the Pedisheep and David, the Anatolian Shepherd dog. Esme is still the youngest of our Rhinos and has been weaned earlier this year.
Lula follows Nhlanhla and Khulula around and doesn't leave them for a second. They have quite a close bond. Khulula as always she is always first in line to start enjoying her food. Nhlanhla is the first to fall down and enjoy a mud bath.
Stompie likes to block the trucks off with feeding time just so he can come around and say halo first before we can continue with feeding and Balu is always so eager for food he starts eating it off the back of the vehicle.
Here is a look back at the 6 rhinos that were released from our care into the wild since December 2018:
Dingle Dell and Lion's Den – December 2018
These two were our first releases that took place five years after the two rhinos survived a vicious poaching attack that left them severely injured and a bull dead. Fully rehabilitated, but dehorned to deter further poaching attacks, they are living testimony of the rehabilitation work the Hoedspruit Endangered Species Centre (HESC) performs on injured and orphaned animals brought to the Centre. Needless to say, proud as we were, it was an emotional experience to let them go.
Gertjie and Matimba – July 2019
The story of these two orphans that came to us at the age of approximately three months and barely one month after their mothers had been viciously killed for their horns in their presence, is another one of our success stories. Their release was conducted in partnership with Investec Rhino Lifeline, longstanding supporter of our rescued rhino project, and was widely publicised in the media.
Ike and Phillipa – August 2019
We describe the tale of Ike and Phillipa as a story of rehabilitation and a heart-warming love story. Ike had his horn hacked off as a young bull of around three years old and was brought to HESC by Saving the Survivors. Understandably terrified and nervous in the extreme, he only relaxed after he met Phillipa in an adjacent camp who had experienced an equally horrendous poaching attack on her and her mother. The two-year-old Phillipa survived, but not the mother. Ike and Philippa were released together and are still never far apart!
Although we release our rhinos, we keep track of them and can report that all have adapted well to life in the wild again.
FUNDING
Funds raised from the Big Rhino Need Big Hearts Too project allow us to continue to rehabilitate, protect and give sanctuary where needed to this endangered species.
Thank you for your contribution to these beautiful animals. Please continue to support us where you can.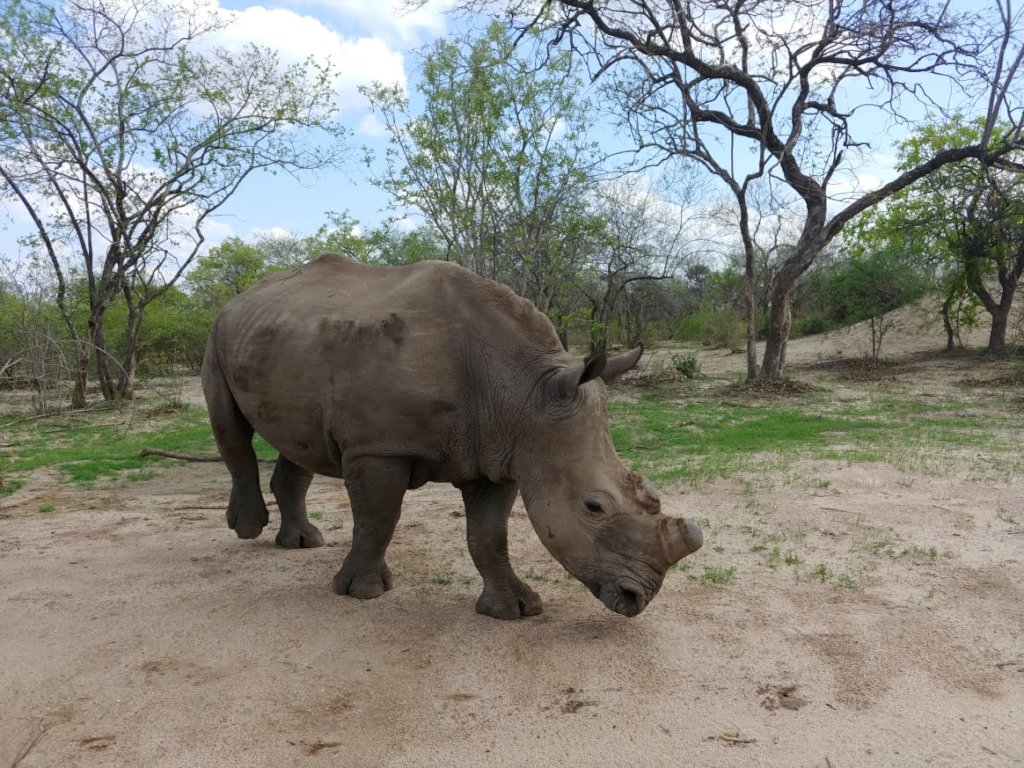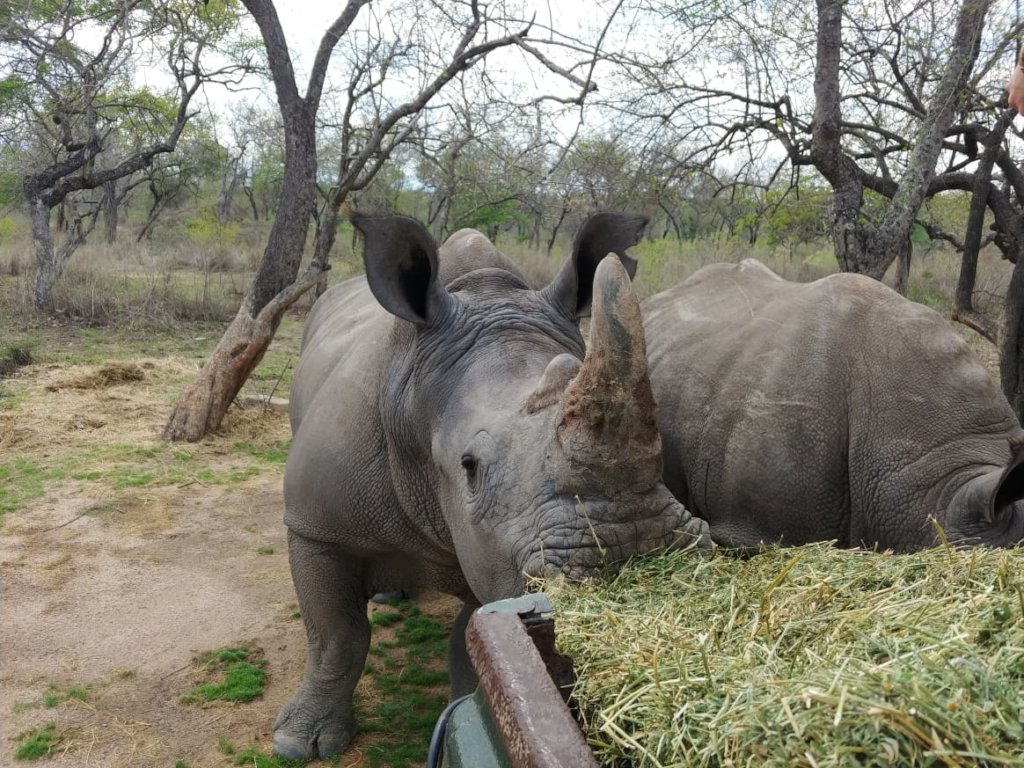 Links: