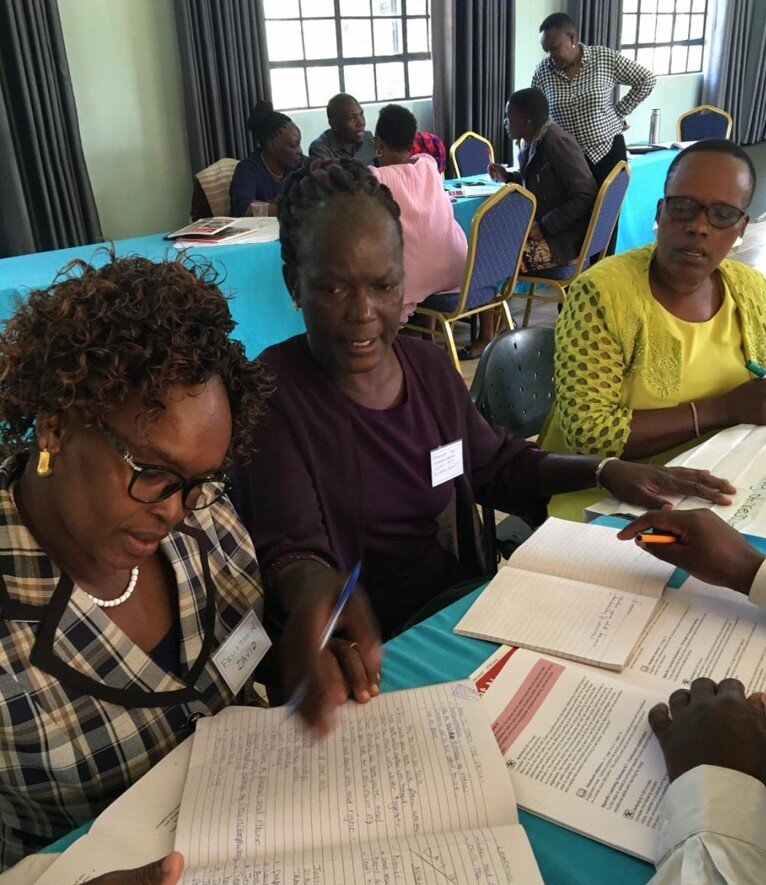 Because so much has happened in fulfilment of our 'Better Lives' strategy since our last report, we can only provide a few examples from some of the life-changing initiatives you have supported through this project. We hope you find it an encouraging read!
In this period, Advantage Africa, together with the Kenya Institute of Special Education, trained 20 special education teachers in effective transition from school to home for children with intellectual disabilities. The teachers are now applying their new knowledge and skills in their own schools and communities across the country so that the young people in their care can work and thrive when they grow into adulthood.
When Queenie, 15, first came to the school at Thinu established with support from Advantage Africa, she couldn't speak or walk but now is very independent and will soon benefit from this ground-breaking new approach to special education in Kenya.
Among the adults with disabilities we supported to be resilient in the face of rising prices and drought in south-east Kenya were Mutiso, a 63 year old man who is earning an income by keeping goats for meat and milk. Another beneficiary is Rita, a victim of ritual violence disabled by her attacker for whom we built a new home and are now assisting to develop a small grocery business.
Your support also enabled us to re-equip the rehabilitation workshop run by our partner Kibwezi Disabled Persons Organisation (KDPO) with new tools so that their technicians can continue to provide crutches, wheelchairs, boots and other appliances for over 300 people per year. Alongside this practical work, KDPO campaigned tirelessly for improved disability rights in their region and took a major role in a rally on the International Day of Persons with Disabilities, 3rd December 2022.
In Migori, south-west Kenya we supported the Migori Women with Disabilities Group to improve their management skills and establish their office as a thriving base to meet the needs of people with disabilities in their region. Christabel, who is blind and was previously begging on the streets, was one beneficiary. Your support enabled us to rebuild her dilapidated house, purchase a bed and support her to start a small enterprise. Her life and outlook has been transformed and she says 'I thank God every day'.
Better lives also resulted for 35 people with disabilities that MWDG enabled to be fitted with assistive devices such as wheelchairs, and a dozen more who were trained in business skills prior to starting a tailoring enterprise.
In Uganda, Advantage Africa and its partner the Source of the Nile Union of Persons with Albinism provided mobile skin clinics for 500+ people with albinism to protect against skin cancer in 20 different districts and a refugee settlement since our last report. Life expectancy for in Africa for people with albinism without protection is just 30 years, and by providing education about albinism, wide-brimmed hats, sunscreen and cryotherapy, these clinics are saving lives every week of the year.
Our project to support vulnerable families in Kyabiiri got well underway this period with the establishment of a borehole which has brought safe water into the community for the first time. We expect a reduction in life-threatening water-related diseases as a result, alongside reduced time and drudgery spent on collecting water from distant polluted ponds.
65 people with epilepsy and their carers (244 people in total) attended our three days of assessment and training and are now on medication to control their seizures – almost all for the first time. Understanding around the condition has been turned around, dangerous myths debunked and stigma surrounding those affected much reduced.
The incomes component of our work in Kyabiiri has enabled 45 young people, most of whom discontinued their education following the two-year school closure in Uganda, to begin training in motorcycle mechanics, welding and growing coffee. A further 22 vulnerable families have been supported to rear goats for food and income and people's hopes for sustainable incomes are being restored following the bleak years of COVID-19 and despite the current economic climate.
We're most grateful for everyone who supports this Better Lives project to improve the education, health and incomes of vulnerable people in East Africa. You are making an enormous difference - thank you.