Project Report

| Nov 18, 2022
From desperation and poverty - to renewed dignity and hope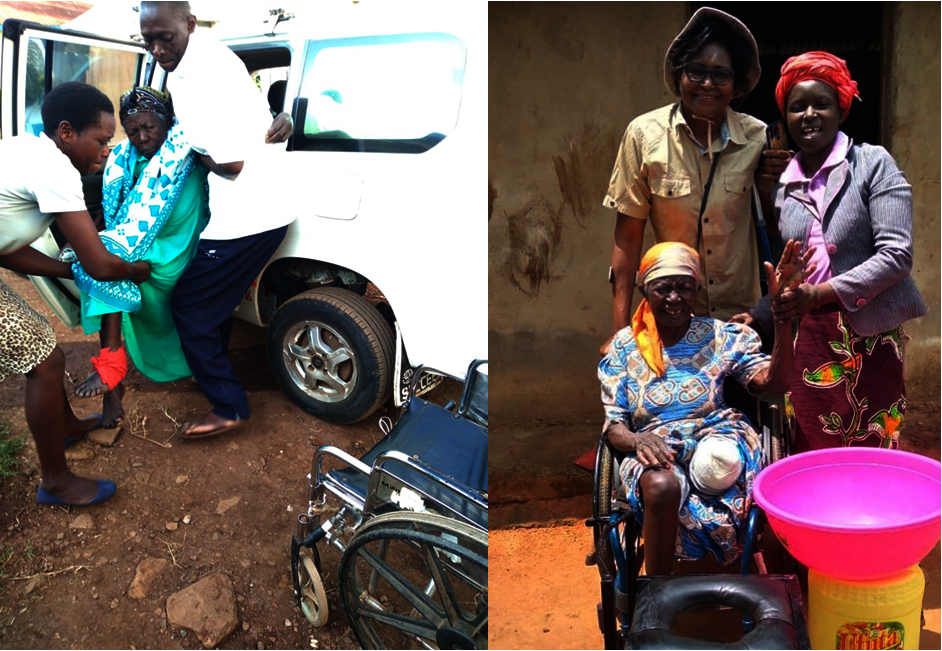 This project furthers Advantage Africa's goals of supporting vulnerable and excluded people to overcome poverty through practical projects, advocacy and more sustainable organisations.
The last four months in our partner communities across Uganda and Kenya have seen massive food price increases, falling exchange rates, Ebola and the emergence of the region's worst drought for 40 years. Despite these challenges, we've supported vulnerable people in our partner communities every single day - and we hope these highlights will encourage you that your donations are making a big difference in their lives.
Our support of several hundred vulnerable families in Uganda is focused on those headed by single parents and sometimes even children. During this reporting period we were delighted to enable a family of five children living hand-to-mouth to be reunited with their paternal grandmother and purchase land to grow crops for food and income.
Our busy schedule of skin clinics in Uganda enabled around 1,000 people with albinism, including 100 in refugee settlements, to protect themselves from life-threatening skin cancer and receive vital food and hygiene supplies. We also enabled another eight people to have life-saving surgery and lobbied the Ugandan government to provide people with albinism with essential sunscreen.
In Kenya, Advantage Africa and its partners ran training courses on voting rights prior to the 9th August election, caring for children and enterprise development, all for people with disabilities. These training courses empowered and equipped around 100 people with disabilities with knowledge, skills and confidence to improve their lives for the long term. We also enabled 10 people to be fitted with bespoke wheelchairs so they can be mobile, and maintained many more. Several families whose homes had been damaged by flooding were assisted to repair and protect them for the future, and four survivors of sexual violence were supported with their mental and physical recovery.
The 20 families trained in goat rearing and provided with goats and water tanks mentioned in our previous report are now benefitting from their enterprises. The original 40 goats have now multiplied to 76 and most families now have at least half a litre of milk per day. Kambua, a single mother of three children, is one of the project's beneficiaries. She now has five goats, harvests a litre of milk daily and says: 'I never thought I would get this help to start earning an income for my family. Now our life is better than yesterday and I know it will get even better!'
During this reporting period, Advantage Africa extended the 'Better Lives' project to sex workers, focusing on their health and human rights. Training was held for 12 women to become community champions, reduce violence, prevent HIV and fight discrimination. Supportive networks are being built and sex workers are now accessing reliable information to improve their welfare. Small grants are also being provided for urgent financial needs and to establish alternative income sources.
The extreme vulnerability of the people supported by Advantage Africa is illustrated by an elderly woman called Sarah, who had debilitating pain in her leg which prevented her from walking. With donations from people like you, Advantage Africa enabled her to access medical help and make improvements to her home so it was safe and habitable. Bone infection in Sarah's leg meant that it had to be amputated, but it healed well after the operation. Sarah is now back home, living pain-free with a wheelchair, commode, a new bed and bedding - which all make her life more comfortable. She's assisted with her daily care and mobility by a neighbour and the desperation she previously felt has now changed into renewed dignity and hope.
We're grateful for every donation to help people like Kambua and Sarah, and hope you will consider supporting Advantage Africa this Christmas. On 'Giving Tuesday', 29th November, all donations to Advantage Africa on GlobalGiving will attract matched funding - so your support goes even further in creating better lives for vulnerable people in East Africa.