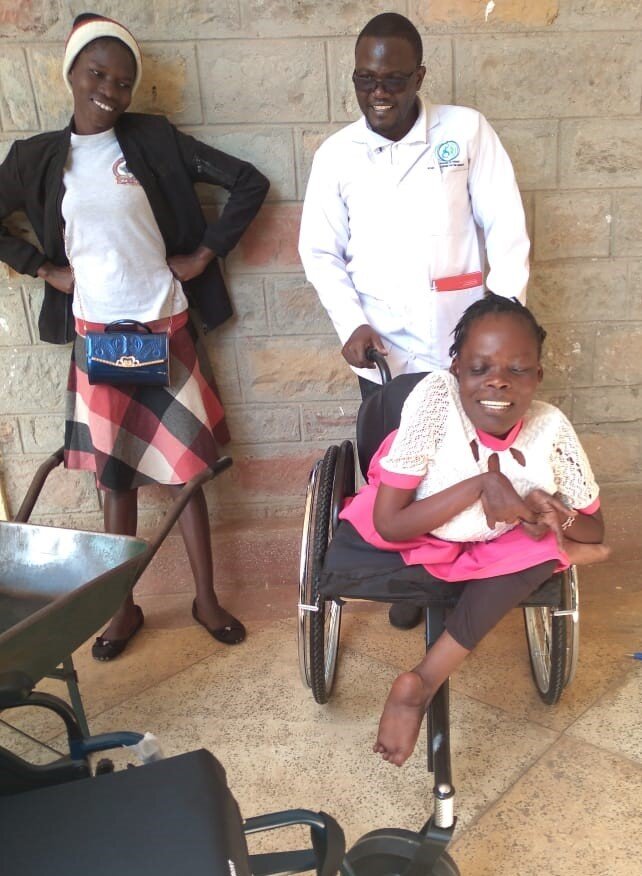 Advantage Africa's 'Better Lives' project is based on the objectives of our current Strategic Plan, which are to (1) support the most vulnerable and excluded women, men and children to overcome poverty, (2) contribute to changing the conditions, attitudes, policies and practices that keep them in poverty, and (3) create a more resilient and sustainable organisation.
Achievements in the last quarter against objective (1) include:
Home visits and appliances for people with disabilities around Kibwezi and Migori, Kenya. Following assessments in the last period, this has brought the number of people provided with wheelchairs in the last year to 220; the robust chairs, designed for use in challenging rural environments, have empowered them with mobility and independence, sometimes for the first time in their lives.
Isobel from Kuria in western Kenya was one such beneficiary. Since her parents and brother died she has lived alone in a small mud house, and before being assessed and fitted with a wheelchair she suffered the indignity of being moved around in a wheelbarrow. Today, with support from people like you, she has a new wheelchair designed for the rough terrain around her home; she sits upright and her confidence and outlook have been transformed. Our local co-ordinator Sheila says 'Isobel was so happy when she came for her wheelchair fitting; she had never before had any help like this and, she was very thankful'.
20 teachers from across Kenya were trained in our model of transition from school to adult life community for young people with intellectual disabilities. A further three students were supported to leave school and establish enterprises to help meet their families' basic needs, bringing the total to 22. They include 19-year old Dennis who has started a popcorn selling business and is now the main bread-winner in his family.
We have supported 20 vulnerable families in Kibwezi, Kenya to rear Galla goats for milk and meat. These hardy goats are well adapted for the semi-arid conditions of the area and provide a sustainable source of nutrition and income to enable people to work their way out of poverty.
A further 17 skin clinics for people with albinism were held in Uganda (including two in refugee settlements) and a new partnership with Beyond Suncare was launched which will see vital education, sunscreen, wide-brimmed hats and cryotherapy expanded to Bugisu Sub Region. Seven people with advanced skin cancer were supported to have life-saving surgery.
Training in Uganda took place for 139 people affected by epilepsy and 41 by cerebral palsy so they could better understand and manage their conditions.
Epilepsy is very common in Uganda, but people affected are routinely shunned and neglected because its misunderstood or attributed to witchcraft. They and their families usually live in chronic poverty. Our training enabled 139 children and adults with epilepsy, their carers and community leaders, to understand and manage the neurological disease and resist the myths and discrimination that surround it. All 139 people were assessed and provided with tailored medication to put them in control of their condition. Since then almost all have reported their lives have been transformed by a complete end to the debilitating and life-threatening seizures from which they previously suffered. We're now keen to support these families to start small income-generating enterprises to lift them out of poverty and further boost their confidence and self-reliance.
Across both countries we helped a dozen families experiencing severe hardship (including several child-headed households) with land, housing, food, healthcare and school fees to improve their lives and build their resilience as inflation and drought reached our project areas.
Outcomes against our advocacy objective (2) included a successful commemoration of International Albinism Awareness Day (IAAD) on 13th June in Jinja, Uganda. Several thousand people witnessed the march and/or attended the rally, including 549 people with albinism. After two years of lockdown without such a celebration, it was cathartic for them to come together again and the day was full of joy, solidarity and encouragement. Some of the attendees had never met other people with albinism before and one said: 'My life has been full of misery. Thank you for bringing us together. Now I know I am worthy and not alone with this condition'.
National media coverage of the IAAD event enabled our partner the Source of the Nile Union of Persons with Albinism to reach several million people with a message about the equal worth and human rights of people with albinism.
Also this quarter, we enabled refugees with albinism to share their stories directly with the UN's Independent Expert on Albinism, equipping her with evidence to alert the global refugee agency UNHCR to the neglected needs of refugees with albinism.
Finally, towards objective (3) of creating a more resilient and sustainable organisation, we secured funding for a new project among single parent families in Kyabiiri, Uganda and purchased a vehicle to expand our reach and reduce the high transport costs of our albinism project.
Advantage Africa also participated in GlobalGiving's July Bonus Day, which attracted donations and matched funding towards this project as well as life-saving operations for people with albinism on our albinism project page https://www.globalgiving.org/projects/end-skin-cancer-for-people-with-albinism-in-uganda/
We're most grateful to supporters like you who made all this this life-changing work possible. Thank you, and please spread the word!