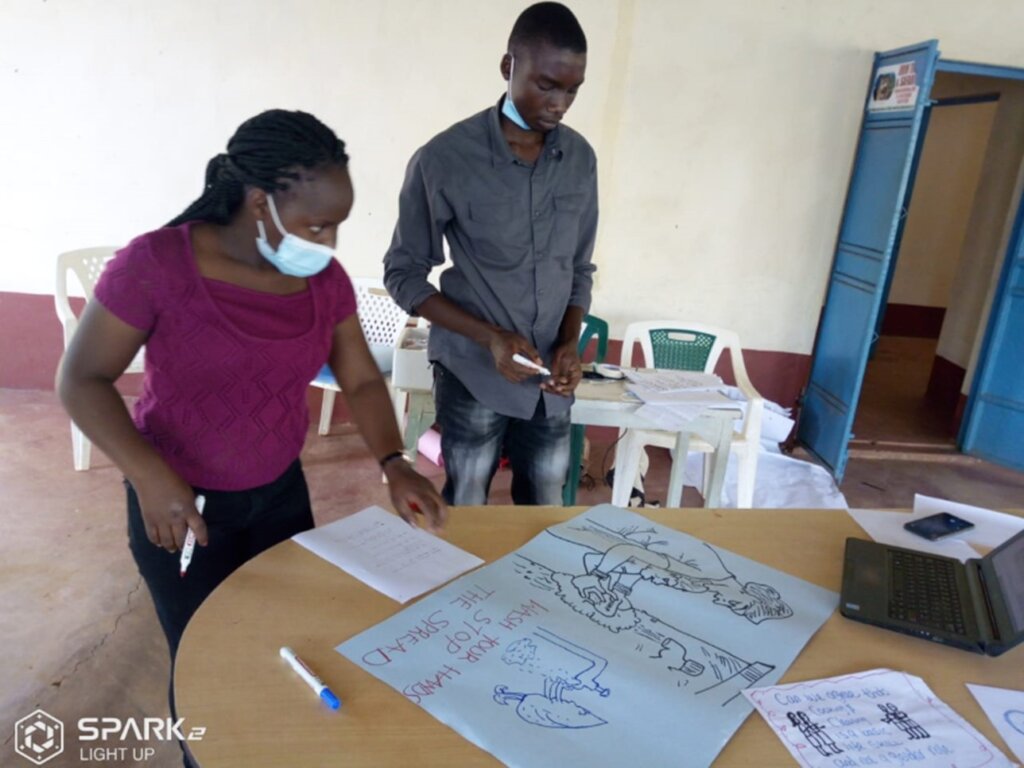 As the lockdowns imposed due to the COVID-19 pandemic were lifted in East Africa and schools reopened (in Uganda, after a two-year closure) Advantage Africa's work shifted from emergency relief back to the sustainable development initiatives encompassed by our 'Better Lives' project. Highlights from the last quarter included the following:
We trained 30 young leaders in Kenya to create and share accurate information about sexual and reproductive health, HIV, gender-based violence and substance abuse using mobile phone technology. These 'Ambassadors' have subsequently led their own youth groups to create engaging video clips, poems, songs, animations, and short plays that were shared on social media. We estimate that at least 2,000 people have been reached, with up to 10,000 onward shares. Project Manager Burgwin Muthoka said: 'The Youth Ambassadors are highly engaged, and we are learning the power of digital technology to get our awareness messages known far and wide.'
Students with disabilities from four of our twenty partner schools in Kenya were assisted to make successful transitions from school to home and community life by starting enterprises that will contribute to their families' incomes. Rufus, who has multiple disabilities, is one example; he had become 'stuck' in education well into his twenties and was supported to leave school and start poultry-keeping at home under his mother's guidance.
18 successful clinics (including one in Nakivale Refugee Settlement) were held for 345 people with albinism in Uganda to prevent life-threatening skin cancer, and surgery was carried out to remove advanced cancer from five individuals. We exported 3,306 bottles of high SPF sunscreen kindly donated by our partner Ultrasun UK for distribution at the life-saving clinics and began a new partnership with Beyond Suncare which will see these vital services expanded to Bugisu Sub-region.
Over 50 people with disabilities in Kenya and Uganda were provided with wheelchairs and other mobility aids. This included 30 people for the first time in Migori, western Kenya including several who had been housebound for years
On the other side of the country, in Kibwezi, our technicians were trained to an advanced level in fitting wheelchairs. Their workshop is the only rehabilitation centre for people with disabilities for tens of thousands of square miles.
In Buyaga, Uganda, we provided training in malaria prevention and distributed 810 insecticide treated mosquito nets to 250 vulnerable households to protect 1,500 people, including infants, from life-threatening malaria. Single parent Joyce was one of the 250 parents overjoyed to receive sufficient nets to protect her whole family. Our subsequent monitoring visits found families like hers diligently and daily using their nets and community leaders report a dramatic reduction in malaria cases.
Some of the most vulnerable people in Buyaga live in dangerous and dilapidated dwellings and during this period we helped eight families affected by old age or disability to improve their homes, security and sense of well-being. The home of Anna-Maria was previously half-finished and unsafe so our team, local builders and community members helped her to complete it. Anna-Maria said 'May God bless those that contributed towards repairing my house. I was born in 1936 and no-one has ever helped me like this!' Anna Maria is a good example of how, with your wonderful support, this project is enabling some of the most vulnerable people in East Africa to have better lives and hope for the future. Thank you.