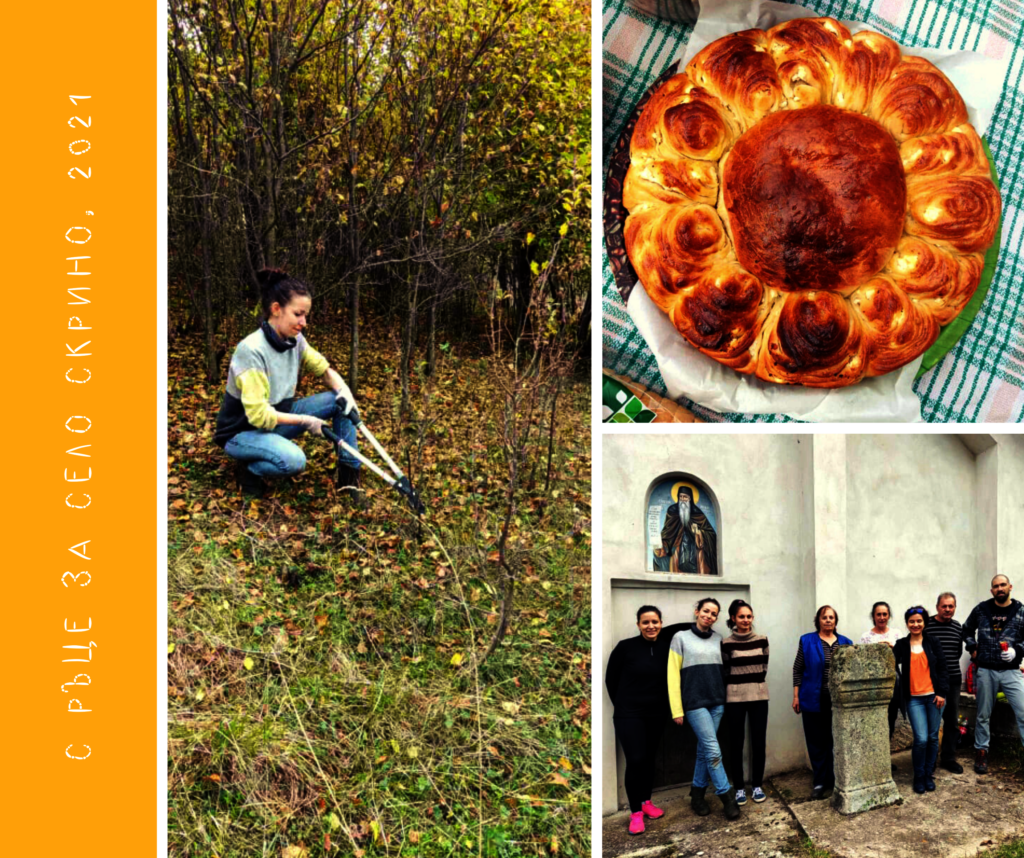 Hello, dear Baba-supporter and village-lover :)
I tried to write this letter in Bulgarian this time, but it seems that the website cannot recognize Cyrillic alphabet. (Pishi mi, ako iskash da ti izpratq pismoto na bylgarski). I hope spring has explicitly sprung around you, wherever you are right now, and you create and have conditions for peace and joy around you!
So: I HAVE 3 IMPORTANT NEWS FROM OUR VILLAGES:
We chose the village for our next 3-week Baba Residency! In other words, this village will host a 3-week long artistic residency, which will unfold around topics related to climate changes and how they affect the agricultural and cultural dimenstion of life in this village and the region (we call it Climartistique humourosly). For the first time ever we have the time and support of 7 Europen organisations, as part of the project Tandem Regions, whose advices and observations will aim the development of this residency as a prototype for an initiative, contributing to the enhancement of the acces to culture in villages. The residency itself will take place in June 2022 in the village Gorno Peshtene (Yes, again around the dearerst Vratsa!).
From the middle of APRIL we start our rural volunteer actions S ryce za selo / Hands-on a village, which I told about in previous letters. What's new about them is that we will fundraise for them this year here and will make our best to offer them also as an experience to refugee families from Ukraine, staying in Bulgaria. We believe that for them (as for all of us) the opportunity to meet local people in villages, to engage in some consuming and mindful activity and spend some time in nature can be a grounding experience. We will release the application form for the volunteer action on 7th of April, but some of the village which will be part of it, are Ryzhevo Konare and the Northewestern Salsh, Sinyo bardo and Oslen Krivodol.
The first GlobalGiving campaign Little by little start this year on 4th of APRIL until 8th of APRIL!
Our request to you is that, if you still feel drawn to our mission, to share the link of our project with at least three of your village-loving friends, which you know care about the quality of life in villages, or/ and to support the campaign with a donation of up to 50 dollars/ 100 leva from 4th until 8th of April. All donations up to 50 dollars/ 100 lv will be matched with 50% by GlobalGiving :). If you have some other brave and heartful ideas how to make this campaign better, I'm open to it! Thanks!
As a mentioned, the focus of this fundraising moment is our S ryce za selo village voluneer calendar. Until now, our team, together with volunteers and active local village people, has been coordinating it voluntarily.
The resources we will fundraise, we plan to put into:
organizing the meals of the volunteers, which donate their time and focused efforts to solving (and beautifyling) some practical issues, shared by local villagers (such as repainting of public facilitiues, parks and buildings; cleaning river shores, park and other natural areas; rearranging cultural centers, libraries and ethnographic collections etc): These funds will be given to local elderly who wish to prepare the meals for the volunteers and sit and share them together.
covering travel costs for volunteers and team, also meaning that will put effort into offering these volunteering actions as a family experience absolutely cost-free for refugee families from Ukraine, which are residing in Bulgaria.
These are our goals, briefly.
/ I also share a link with our vividly illustraded 2021, created by the painter Aleksandra Nikolova/ al nik. Here you can find some of the achievements of our volunteer actions in numbers and good deeds.
Thank you for reading
and I hope to receive a feedback from what we've shared
here or at communicate@ideasfactorybg.org,
Yoana and the Ideas Factory team