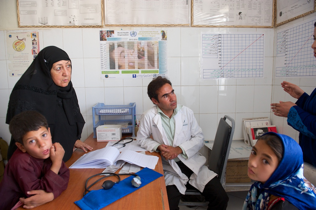 AIL's health program is very effective in providing needed health care and health education to underserved people in rural and urban areas of Afghanistan. Your contributions have given quality health care to people with no other options.
The health program is based on a holistic approach providing treatment and education together including: routine care, first aid, nutrition, pharmacy, dental care, reproductive health care as well as preventive care such as vaccinations and education. In 2013, AIL treated over 194,000 people (average of 16,000 per month) at 4 fixed clinics and its mobile clinics and through its CHW program. In the same time period, AIL provided health education to over 118,000 (average of 9,800 per month) through its clinics, CHWs and workshop offerings.
The combination of health care treatment and health education has proved to be highly effective in breaking the cycle of ill health which plagues many families in the region. An example of this is AIL's nutrition program. AIL has seen a dramatic drop in nutrition cases, especially compared to the national levels. In part this drop is due to the strong nutrition education provided and the proactive intensive nutrition program which treats the malnourished children but also teaches about correct nutrition and how to cook food and in some cases feeds children during the session. The education element is comprehensive covering safe food preparation and the importance of clean water including in formula preparation and food washing.
The 2013 health statistics from AIL show some encouraging developments. There was a 40% increase in clinic births from 2012 up by 115 births. Women are seeing clinic births as a safer option. Vaccinations were up by 14% with 7,000 more and CHW visits also increased by 6,000 or 14%. The number of treatments by CHWs dropped for Acute Respiratory Infections by 15% and Diarrhea by 60%. These two numbers show the impact of health education in giving the people the information to take care of themselves. In the case of diarrhea the importance of clean water for food and formula preparation is always stressed as is the preference for breast feeding for the health of babies. AIL are encouraged by these changes which show the health program is being effective both in the now and in the longer term.
Here is a story from an AIL clinic:
"The patient was called MahJabin a 30 years old with three children. I asked her how many children you have. She answered, "I have three children. The smallest one is my baby boy." He looked about 6 months old. I asked her again where he was born. She told me, "When I had pains and felt that my child will be born, my family called to the administration of the clinic and asked for an ambulance to carry me to the clinic. My child was born here with much help from the midwife. I could get all the medicines freely from the clinic. Then I and my child were discharged from the clinic. Now I think if the clinic wasn't here, I was not able to birth my child because I didn't have any money to pay for the high expenses of other hospitals. I am thankful for all the personnel of the clinic."
We are most grateful for the support this project has received, especially in the month of December 2013 when over $41,000 was donated. Thank you for your generosity and for your interest in Afghanistan and support for AIL's health program.