Project Report

| Sep 6, 2013
September Update from AIL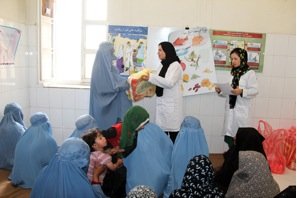 AIL continues to provide much needed healthcare and health education to thousands of needy Afghans who have few if any other medical options. Basic medical care at the early stages of a problem makes all the difference and a small amount of health education creates huge change in behavior and health situations. The latter is evidenced by AIL's innovative Expectant Mother Health Program where women receive information on safe pregnancy and childbirth in an afternoon session. 100% of those pregnant women who attended this workshop went on to choose to have their babies at a clinic in safe circumstances going against the cultural norm of home delivery without help.
During the course of a year, month to month patient numbers can vary due to security, weather or transport issues. In the last few months AIL treated an average of over 10,000 patients per month at its 4 fixed clinics, mobile clinics and through its Community Health Worker (CHWs) program. In the same time period, AIL has given health education to over 16,000 per month through its clinics and CHWs and workshop offerings. AIL provides comprehensive health care including routine care, first aid, nutrition programs, reproductive health care and vaccinations. The nutrition program in the last four months assessed 3,609 children for nutritional status and treated 503 for malnutrition. This is one woman's story:
My name is BiBi Gul. I have 3 children who are 1, 2 and 3 years old. They were so weak. I was very hopeless and fed up with life. One day my husband said there was a clinic in Shaikhan and to go and visit them; it has very kind and professional doctors. The clinic is so far from us; it is about 2 hours away from my house to the clinic. I came and visited the doctors and midwife and told them about my problem. After visiting they told me that your children are affected by malnutrition. The reason was that I didn't follow child spacing and my breast feeding was not sufficient for my babies, so they got malnutrition. The doctor referred my children to the nutrition section. My children were under treatment, every week and they have been checked and monitored regularly and received nutritious food and put on weight. After 3 month, two of them were able to walk. Now I am so happy, and, after 3 years child spacing, I now have a new born child who is normal and well nourished. I am thankful from the doctors. Now lots of people visit this clinic from our area."
Thank you for your interest and support.
Great News: This project has been selected to be part of the Safer World Fund Matching Campaign, meaning that all donations to this project will be matched at 50%, up to a maximum of $2,000. We hope that you will help us take advantage of this great opportunity!