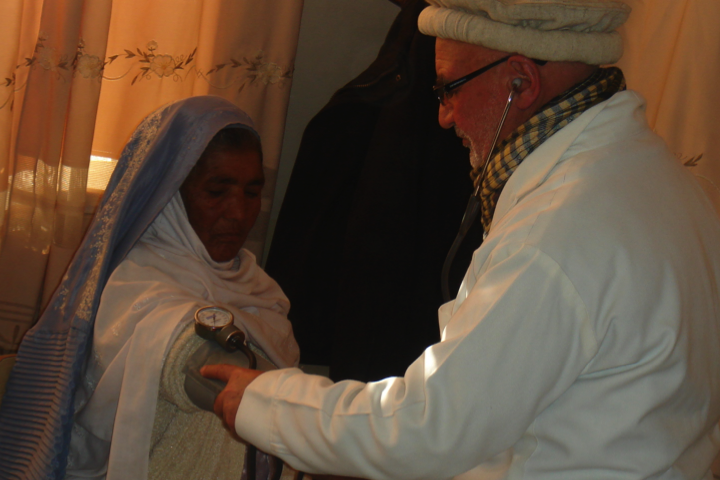 We are very grateful for the support we have received for our health project. There are signs that overall access to healthcare is improving in Afghanistan but there is still a long way to go. There are too many communities and people who have little access to quality healthcare. This can be tragic on the personal scale with illness going from treatable to critical before care is sought and often too late to be effective. The drain on society of cyclical ill health is immense. People cannot be productive when they are dragged down by illness and mental wellbeing suffers as well leading to hopelessness.
AIL's health program continues to be critical in the areas where there are clinics or Community Health Worker (CHW) posts supported by AIL. Since the last update in August 2012, AIL has treated at its clinics over 55,000 patients and given health education at clinics to over 44,000. The CHW program visited over 15,000 families.
Here is a story of one woman's experience of using an AIL clinic:
My name is Zewar and I am 40 years old. I am illiterate. I have been coming to the clinic for 3 years. The clinic is about 150m from my house so I am able to walk here. There are 8 people living in my house, my husband myself and our 6 children. My father also attends this clinic. There used to be no clinic in our area so I was very happy when I was able to come to this AIL clinic. It has helped me resolve many health problems.
I expected the services to be limited, so I was surprised when I first visited that there were many sections to the clinic including pharmacy, OPD, vaccination, Malnutrition, health education and family planning. I heard that the clinic was free and was set up by an Afghan woman. I first came to the clinic because I have asthma. I have made friends through visiting the clinic so it has been a social experience and have received health education as well as treatment. The staff answers all my questions.
The clinic means a lot to me because I take care of my family, my children and follow the family planning and vaccination plans. I have taught my family about hygiene and that we must wash food, do cleaning and other household care because I was taught this at the clinic. I now wash vegetables with salt and we know about water sanitation and about taking care of our health. The clinic deals with all our health care needs and we go as soon as we are ill and we recommend the clinic to friends. The clinic follows Ministry of Public Health standards and has qualified doctors, good quality medicines and standard policies (BPHS).The one thing I would say is that we need more medicine for patients as people come from other districts too and want the quality medicine this clinic has.