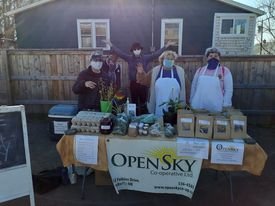 It is so good to report again, and update you on our employment development activities!
It's June, and our winter/spring 2021 Be Your Own Boss training period program is completed. Eleven adults took part for 16 days, learning about mental health and the workplace, managing life/work balance, how businesses are organized and run, how to analyse the local business sector for opportunities, and especially how to develop and start a co-operative business.
Not everyone who completed the program has moved ahead into starting a business, but all experienced huge benefits.
One participant returned to school, and will be ready for employment in September. Six more have returned to receive additional Open Sky supports, as they are not ready for employment yet, due to unmet mental health and other needs. But four are definitely pursuing Being Their Own Bosses.
One has completed online certification in bookkeeping, and is now receiving Open Sky coaching support to find initial work experiences to get that career launched.
Another is being coached to apply what he learned about budgets and finances to better price his 'general labourer' skills, and then promote self-employment in his community.
Two others are being coached in their new business: Lighthouse Baking. This small business has a menu of cookies, that they make largely from local organic ingredients, that they sell at the Sackville Farmer's Market. Having received good start-up support from Open Sky (support for their business model; initial purchases of ingredients and tools; use of the Open Sky kitchen; assistance at the Market), Lighthouse Baking plans to move into another community organization's kitchen in July. They will still join with Open Sky at the weekly Market through to October, and then will assess their business experiences to set new goals from there.
It is exciting to see so many people empowered and enabled to pursue their dreams, and to build autonomy of purpose.
At Open Sky, all of our Mentors report that the BYOB Program seemed to have a wide, positive effect on everyone who participated (even those who had returned to Open Sky to help in the kitchens and with organizing the BYOB program). Each person seems to be standing a bit taller, demonstrating more maturity in their work and relationships, and taking more responsibility for setting and achieving personal goals.
Every way we look at it, we see our Be Your Own Boss Program as a rich, important and unique approach to helping people overcome their barriers, and developing the lives they want to live. We look forward to planning another training in 2021-22, and hope that we can continue to receive your support.
Thank you so much!!!