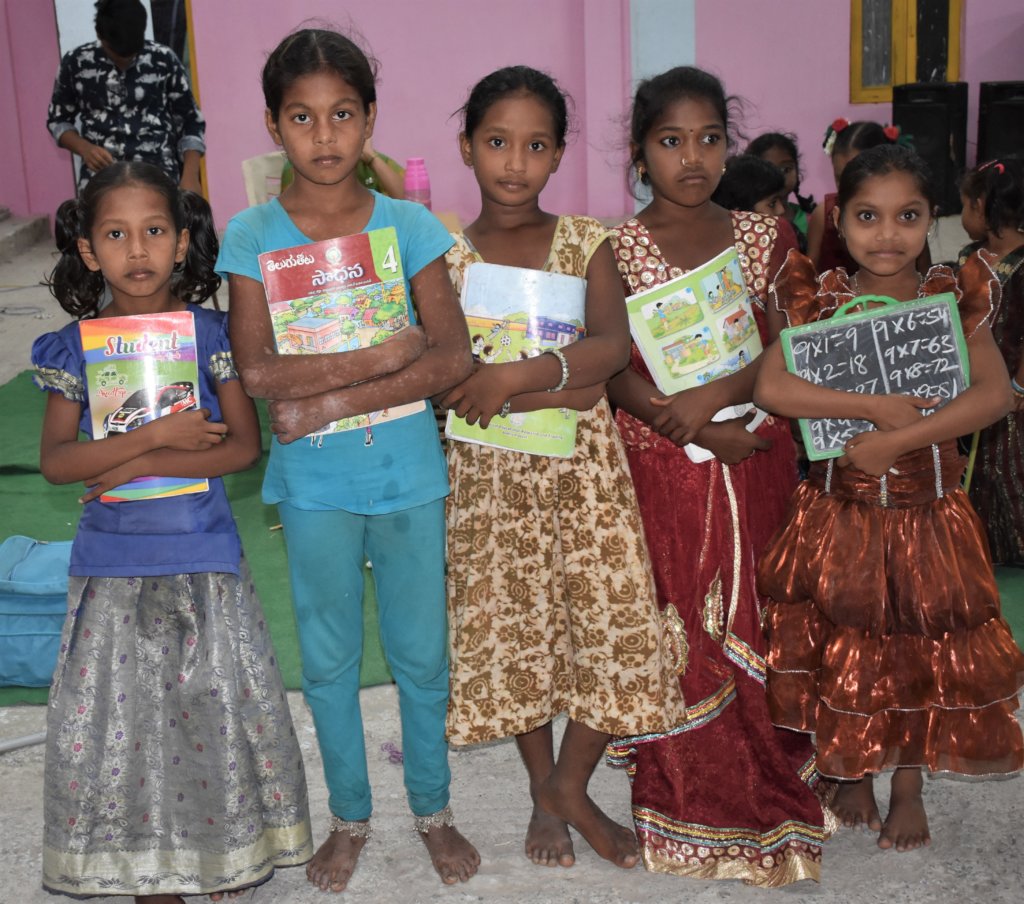 Dear friends
Greetings and best wishes to you from BASS, India
Thank you so much for your kind support of the project for the last 9 years! We are sending our gratitude to you for your generous heart!
Covid 19 disturbed allot in the lives of everyone including children also and all the schools closed from March 2020.
But fortunately, covid expansion is reduced in in December 2020, therefore covid lockdowns and social moving restrictions are removed in India and reopened schools including our project schools in three locations also started from the first week of January 2021.
We have started our three schools after 10 months of covid restrictions at Swarna Bharathi Nagar, Lingyapalem and Dasari Palem slums with covid prevention methods. Total 150 children are benefiting through this project in three locations. Classrooms also provided for 20 children only as per covid prevention and maintained social distancing and wearing face masks.
We also distributed the educational material and writing material to the children along with face masks and sanitizers. As usually mid-day meal also serving to the children with nutritional values food items like eggs, pulses and leaf curries.
Our teachers also take good care of children and guide them to protect and fight with corona by applying covid prevention methods. The academic year 2020-21 will be finished by June 2021 with a short academic year. We are successfully facilitating the primary and upper primary education to the children effectively with our qualified teachers and supporting team.
Children and their parents from the three slum locations are very happy that their children are going back to school after a long gap of covid lockdown.
Still the daily wage works have not started, and many children's families are struggling to get adequate income for their families.
Ubfortunaely the second wave of Coronavirus is again affecting the people in Guntur and everywhere India currenly. Again every day at least 600 covid positive cases are registering in Guntur district. Until today 13-04 2021 Total 83083 covid positives cases registered and in which 3246 active cases are in treatment at hospitals and home isolation in Guntur district, Andhra Pradesh, India
But our schools are continuing to operate with covid prevention measures. We are distributing essential food groceries and sanitary kits to children and needy families in our three slums monthly. We are also sensitising and educating the children and their parents on covid prevention methods through household visits and individual counselling with our volunteers and staff.
At present we are worried that the second wave of covid expansion is fastly growing day by day and expecting new lockdowns are public restrictions that may be instructed by the government any day.
Therefore, we humbly request you to kindly support this project again with a donation to facilitate education and care for the slum children with a best nutrition meal every day and distribute sanitary kits and essential food ration kits to their families to survive in this unfortunate pandemic times.
Please donate again and sign up for a monthly donation to this project and save the lives of children.
Sincerely with gratitude