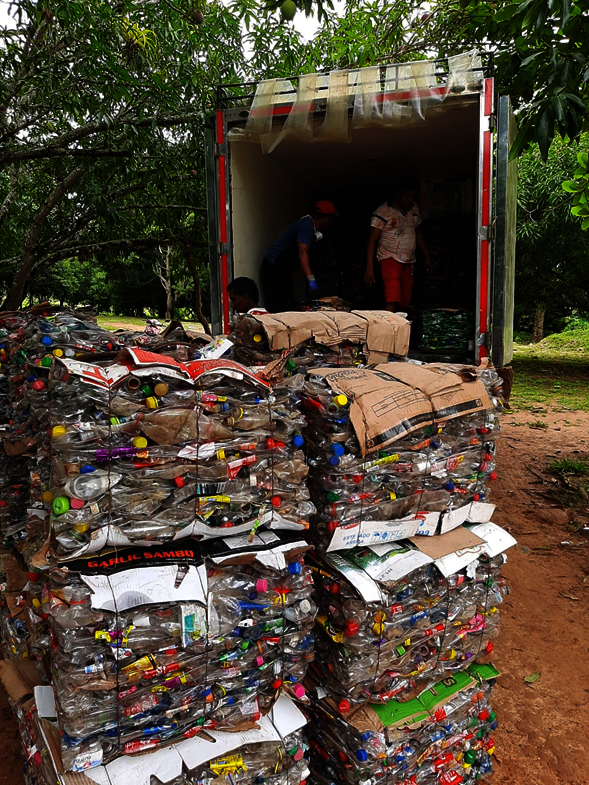 REPORTE EN ESPAÑOL MÁS ABAJO
The project started by buying, compacting and recycling only PET (plastic bottles) which generates a significant impact to reduce the amount of garbage in the wetland.
Since the beginning of the project, more than 6 tons of PET have been sent to Ekored in Medellín. They are later converted into synthetic micro-fibers to produce clothes.
Additionally, solid waste is purchased from 11 recyclers in the municipality of Ayapel, which boosts the local economy.
As of July, cardboard, plastic bags and aluminum, tetra pack, copper and bronze have also been purchased in order to increase recycling and reduce the impact of waste on the swamp.

Additionally, educational institutions are accompanied in talks on environmental education:
• Carlos Adolfo Urueta National School.
• María Montessori School.
• Our Lady of Rosario Educational Institution (Palotal - Rural).
• El Cedro educational institution. (Rural)
All your contributions are essential to achieve the dream of a garbage-free Ayapel.
ESPAÑOL
El proyecto empezó comprando, compactando y reciclando solo PET (botellas de plástico) lo cual genera un impacto significativo para reducir la cantidad de basura en la ciénaga.
Desde el inicio del proyecto, se han enviado más de 6 toneladas de PET a Ekored en Medellín. Posteriomente, este PET se procesa y se utiliza para crear micro-fibra sintética para confeccionar ropa.
Adicionalmente, se le compran los residuos sólidos a 11 recicladores del municipio de Ayapel lo cual dinamiza la economía local.
A partir de julio se empezó a comprar cartón, bolsas plásticas y también se comprará aluminio, tetra pack, cobre y bronce con el fin de aumentar el reciclaje y disminuir el impacto de los residuos en la ciénaga.
Adicionalmente, se realiza acompañamiento a instituciones educativas en charlas de educación ambiental:
Colegio nacional Carlos Adolfo Urueta.
Colegio María Montessori.
Institución Educativa nuestra señora del Rosario (Palotal – Rural).
Institución educativa el cedro. (Rural)
Todos sus aportes son fundamentales para poder lograr el sueño de un Ayapel libre de basuras.