Project Report

| Aug 2, 2018
Mothers' groups ask for more Lifeplayers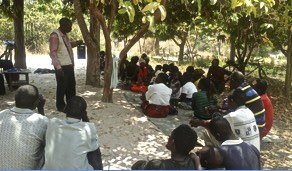 One of the pitfalls of success!
We've just received an urgent request from Zambia's National Food and Nutrition Commission (NFNC) for 50 additional Lifeplayer MP3s. The 1000 Days of Motherhoodaudio programs are proving to be hugely popular and in demand, which is great. However, they need more – and now!
The first Lifeplayer units went into mother's listener groups in five provinces, Western, Eastern, Muchinga, Luapula and Northwestern. Many areas are rural and sparesely populated. In every instance, there weren't enough units to go around. Two or three groups miles apart often share one Lifeplayer - walking or taking it by bicycle to another group Also, many of these remote areas don't receive a radio signal, so even if the content is broadcast in local language on the radio, the women can't access it.
The NFNC specifically focused distribution on those areas in Zambia with the highest rates of childhood stunting – up to 25% in some areas. And the audio content, called Bushes that Grow, which has phase 1 and phase 2 is created in five languages to cover all major language groups.
To date, the NFNC surveys have revealed that approximately 12,560 households have been reached with the programs so far. Although it is soon to confirm the direct impact that the programs are having on families, respondents expressed optimism. They say that they are on the right track now with the new nutrition information and knowledge they have gained.
Their most urgent need is for Lifeplayer units. The NFNC have pledged to cover all training and distribution costs if Lifeline Energy can supply the Lifeplayer MP3s. Their budgets have been cut by their main funder, USAID, and they've asked us for help.
We sincerely hope that you'll continue to support this really wonderful initiative to benefit vulnerable Zambian families. Thank you and let us know if you have any questions about the 1000 Days of Motherhood initative.