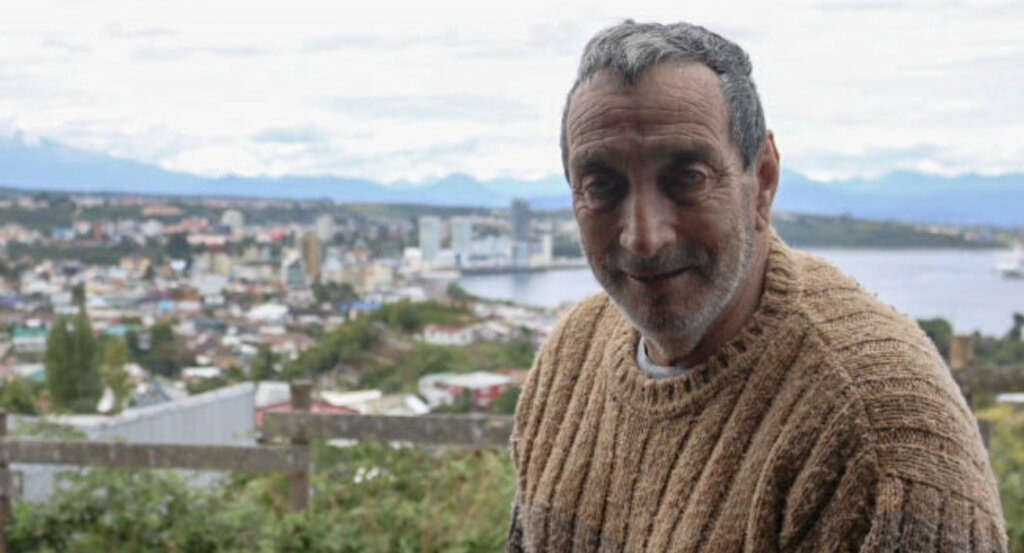 Juan Carlos is 72 and sick. Today he is cared for by a niece and receives help from the In-Home Care Program for the Elderly (PADAM) of the Hogar de Cristo, a unique model that, according to a geriatrician expert from the Catholic University, should be replicated in all municipalities of the country to face the coronavirus pandemic.
It is estimated that there are 600,000 vulnerable older adults throughout the country and that 22% of Chilean households have a person of this age group under their care. According to a study by the Universidad del Desarrollo, in Chile there are 470,000 who belong to the fourth age, that is, they are over 80 years old and of them, 16% live in single-person households, absolutely alone.
The recommendation that they do a total quarantine and avoid physical contact with other people is very difficult for those who suffer loneliness, abandonment and great vulnerability, which is the care profile of the PADAM program of the Hogar de Cristo in the Los Lagos region, which watches over for the welfare of 60 older adults: 30 in Puerto Varas and 30 in Puerto Montt.
One of them is Juan Carlos (72), who lives in the modest home of his niece, Malvina (62), located at the top of the hill in the city of Puerto Montt and with an exceptional view of the bay. From there, the once rude fisherman for 40 years remembers his past and fights against a very common disease among those who earn their livelihood at sea: cirrhosis.
"We started the morning with a ´harinado´ (mixture of red wine with toasted flour) to face the cold and kill hunger, that was our breakfast. We spent the whole day working and we caught sea bass, eel, hake, "he proudly recalls.
The son of a fisherman, as a child he went with his father to extract silversides around the drainpipe that was in the city. Also as a child they often gave him wine to "warm the body." He hardly went to school, he can't read or write. For a time he lived in Calbuco, where fishing "was done by rowing, up to 14 hours I was able to row to deliver tons of sardines," he says. He fell in love there, but the woman he lived with left him. He never married or had children.
He had prosperous times in which he had a thirty-foot boat, but he lost it in an accident that nearly cost him his life. "The fisherman lives his day to day full of risks, so we do not have future or long-term projects, nobody knows if he will return from the sea. That time, a wave turned my boat over and by sheer luck I was saved from drowning. We used sacks to take care of our knees, now everyone wears waxed suits, "he adds.
"YOU HAVE TO RETURN THE HAND"
Malvina , his niece and his goddaughter, takes care of him with affection and care. "My uncle worked a lot, he was like my dad, he made sure that we lacked nothing. The least I can do is return his hand, "explains she, who sells clothes at the fair.
"I always tell him not to open the door for anyone except the people of the Hogar de Cristo who help us with a box of food and with periodic visits, but he is stubborn and sometimes, when I arrive, I find him on the street, one time he almost fell, "he says, showing the dangerous staircase that leads to his home.
Yerko Villanueva, territorial social head of Hogar de Cristo in the Los Lagos region, has known Juan Carlos for a long time and affirms that to this day fishermen or people linked to artisanal fishing continue to offer alcohol as a salary. "We are facing a harsh reality that encourages alcoholism from childhood and that must be eradicated, because otherwise, many may end up on the street, increasing the number of vulnerable and poor people."
The importance of PADAM is precisely that it arrives in time to detect cases of extreme abandonment and loneliness in older adults. And that is why the geriatrician of the Faculty of Medicine of the Pontifical Catholic University, Eduardo Valenzuela, recommends copying this model in all the municipalities of the country.
"The Hogar de Cristo Home Care Program for the Elderly is one of the most successful initiatives that the foundation has had in recent decades. Precisely because of this ability to identify the most fragile people and link them with health care social networks and protect them. Many of them would have died alone in their homes if this program did not exist ", he points out.
Yerko Villanueva fully shares this opinion and to continue supporting people like Juan Carlos , it was determined that while the emergency lasts, the Padam, although they will decrease face-to-face visits, will increase contacts with calls at least twice a day to older adults or their caregivers.
"This is the time when they need containment more than ever. We cannot and we are not going to abandon them ", he confirms