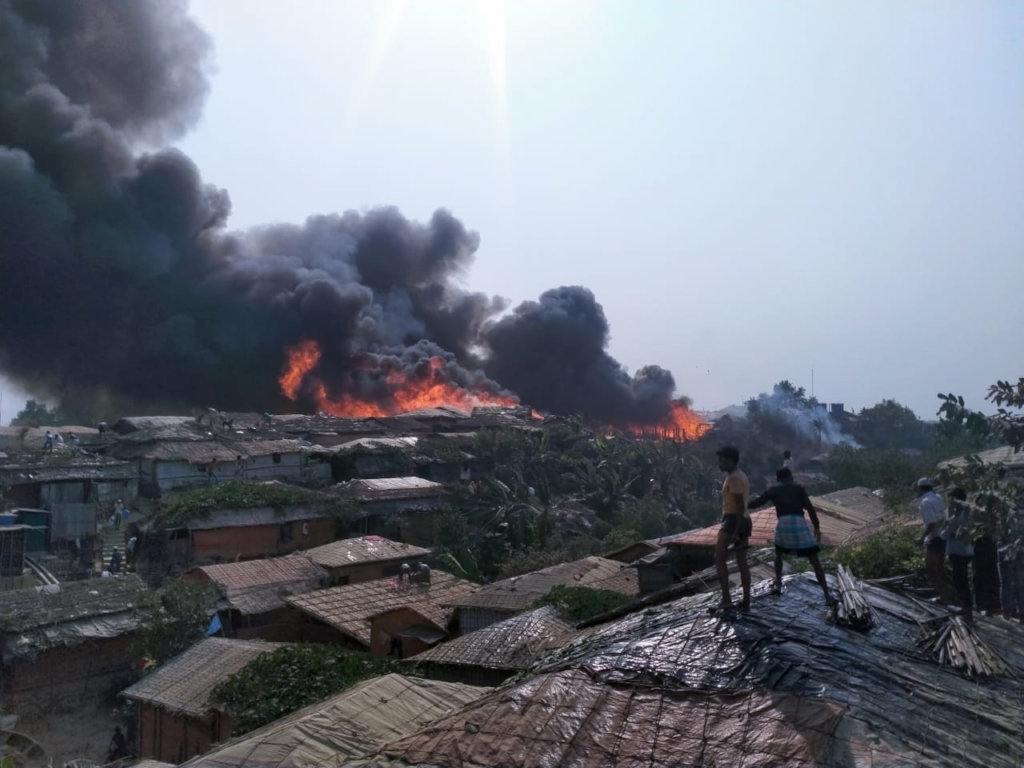 On March 22nd – just one month following the last report on Concern Worldwide's work with Rohingya refugees that you've helped make possible – fire broke out in Balukhali camp. The fire quickly spread through the makeshift shelters and tents spread across the hilly terrain of Cox's Bazar, currently home to nearly one million refugees.
The flames consumed almost everything, including personal belongings and essential facilities such as hospitals, primary health facilities, learning centers, and women friendly spaces. Teams on the ground reported that the scale and intensity of the fire was unlike anything seen before in the camps.
While fire services, civil defense, emergency response teams, and aid agencies rushed to the area, their efforts were hindered by the presence of perimeter fencing. In some instances, refugees had to cut through the fence themselves to escape the fire. Limited mobile phone connectivity in the camps also hampered the ability of refugees to call for immediate assistance and contact their families.
At least 15 people died in the fire and hundreds were left unaccounted for in the aftermath.
Concern Worldwide's Emergency Director, Heather Macey, described the scene as one of utter devastation. "Where yesterday there were bamboo shelters covering the hillside, today it was unrecognizable. In the 4 worst affected camps more than 10,000 homes are destroyed."
Heather recounted meeting Hasina, a grandmother who was sheltering with 3 elderly relatives, her daughter, new-born granddaughter, and 3 other grandchildren; together, they were left with only a pot and a blanket that they were using for shade. "The children were covered in soot and hungry. They were confused what to do and what was going to happen."
Heather says the Rohingya families here have endured so much trauma. "Many people experienced their villages burnt to the ground in Myanmar in the offensive that resulted in the influx across the border to Bangladesh in 2017."
The Response
The Government of Bangladesh began coordinating response efforts on the ground with support from NGOs and the UN. Concern and our national partner, Social Assistance and Rehabilitation for the Physically Vulnerable (SARPV), provided food, water, and a safe place to rest at the local nutrition site. We then began a major effort to help the affected families rebuild their homes and replace their lost belongings. Aid agencies continue to monitor the safety conditions of refugees, as they remain vulnerable to incidents of theft, harassment, and exploitation. Another priority for authorities and humanitarian actors has been replacing personal identity documentation lost in the fire.
This spring, Concern has been working on restoring toilets and waterpoints and reuniting families. Monsoon season came quickly on the heels of the fire, making solid reconstruction all the more necessary and difficult. Our generous community of supporters has made our ongoing support of Rohingya refugees possible as they strive to move on from this most recent trauma. Thank you.