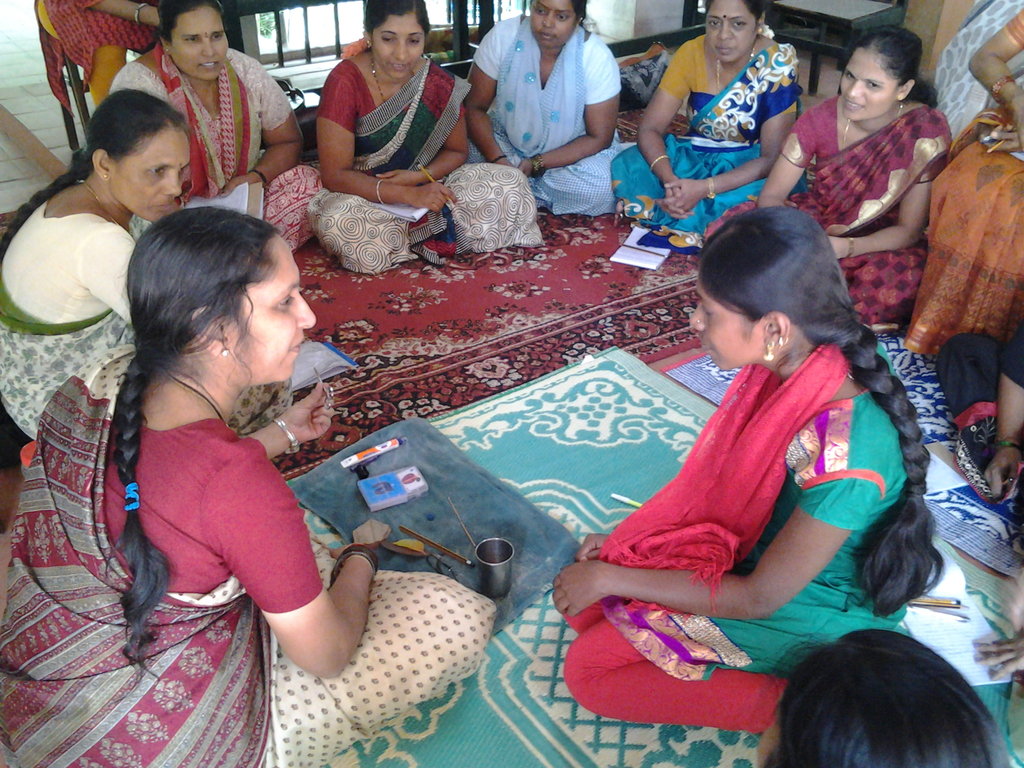 Dear Friends and Supporters of Ashraya,
Warm Greetings!!
We are most appreciative of your interest to help us and be involved with our work. I would like to share with you what is happening in our community and site crèches in Bangalore.
Social Worker and the Doctor have been regularly visiting the crèches during these months. Most of the children in our crèches have been found to have good health. Thanks to the regular PTM's and awareness meetings conducted by teachers.
On 6th September a Teachers Training Workshop was organized for all the crèche teachers and assistant teachers. Ms. Nandini Prakash, a Pre-Primary co-ordinator from Indian Institute of Montessori Studies, Bangalore was the resource person. She has years of experience dealing with younger children. She could easily identify herself with teachers and their day to day problems dealing with marginalized young children. She effectively discussed the roots of these problems and alternative solutions that have worked with many teachers. The teachers were very happy and grateful for organizing a workshop that actually helped them better themselves. She emphasized on the needs of the children and explained to the teachers how they can play an important role in fulfilling the children's needs.
Soon after the discussion session, she taught them simple craft work that can be done in the crèche using the available materials. She encouraged the teachers to teach art and craft to the children as Arts and crafts can help children to develop socially and emotionally, too. She states that, when they are encouraged to give form to their ideas, they learn the value of self-expression. In discovering their ability to create, they become conscious of their imagination and their freedom to make choices.
As a means to explore shapes and textures, quantities, sizes, and proportions, art can also aid children's intellectual development. It helps them to grasp the concepts they will need in learning to read, write, add, and subtract; it stimulates inquisitiveness, critical thinking, and a healthy self-confidence. Physically, it develops fine motor control and hand-eye coordination. In short, art is a window to new horizons in every sphere of life.
Small children need and love daily chances to experiment and explore, to "mess around" at their own unhurried pace. Let them crumple and tear magazines or newspapers, cut and paste scraps, shape play dough or clay. Let them scribble to their heart's content: it is as natural and necessary a step toward drawing and writing as crawling is to walking. Don't feel you have to be an artist yourself, and don't try to "teach" children art. Help them to discover it for themselves.
After the lunch all the teachers thanked Ms. Nandini for taking the workshop and assured her of implementing the ideas given by her at their crèches and improving their teaching methods.
Ms. Nitya Reddy, Board Member of Ashraya had prepared study materials for all the crèches. She also demonstrated to teachers has to their use and also how to make the classes interesting and fun for the children.
Overall the Teacher Training Workshop went off very well. It was an interactive and interesting session. This workshop provoked the teachers to think about what exactly they need to help the children become self reliant and confident.
If you are Interested in volunteering at our project - Ashraya community and site crèches , please send us your consent and Bio-data via email to ashchildedu@gmail.com . To learn more about us please visit: www.ashraya.net and https://www.facebook.com/Ashchildedu?ref=hl
Thanks again for your continued support that keeps us moving forward.