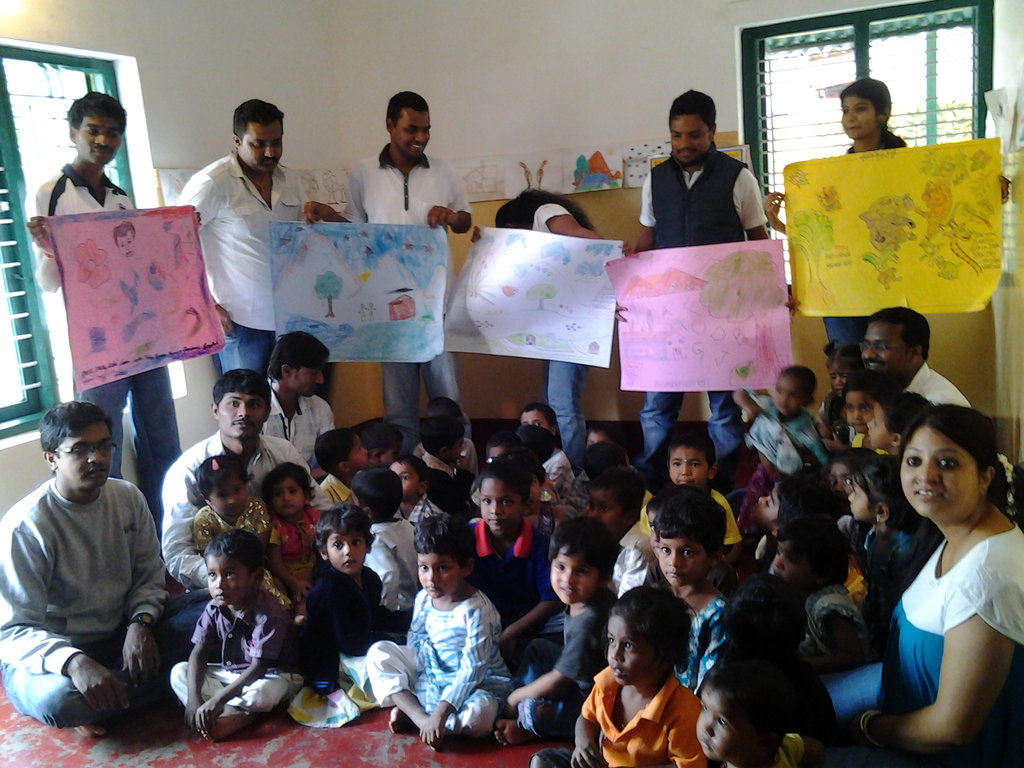 Dear Friends and Supporters of Ashraya,
Ashraya's Community Crèches have been running in an efficient manner.
This quarter our skilled and caring crèche teachers carefully planned and executed many required activities for the initial development of their relationship with the new children; their primary aim was to help children settle down with the routine of crèche and also develop love towards learning, this would help children to be regular to their classes.
The children are now happy and excited to come everyday. New friendships have blossomed and every effort is made to be the teacher's pet.
Early this quarter, the day usually began by teachers checking for individual kids cleanliness followed by prayer and exercise in all Seven community / site crèches. The teacher's effort in making the classroom sessions interesting was witnessed by them using various teaching modalities, such as small group process, lecture / narration, and experiential activities. They were mindful to be flexible to meet each learner's (Kinesthetic, auditory and visual) needs. They ensured to overlap, reiterate and reinforce information throughout the day
ü Narration of stories emphasizing a morale principle,
ü Learning of rhymes in different languages and with actions,
ü TV session – Discovery /Animal planet
ü Interactive discussions using puppets and soft toys on topics like – cleanliness, consuming right amount of food, eating vegetables and fruits, being regular to class and being punctual etc.
ü Pictorial talk
ü Games: playing with a ball, passing the parcel, learning rhymes with actions, reciting poems, narrating stories of their choice, building blocks, solving puzzles etc.
It is quite essential to train children and their parents on cleanliness, sharing and good manners in the initial days as this forms the basis for all round development.
Special Events: Independence Day
This year Independence Day was celebrated at Indiranagar community crèche on 15th August 2013 at 10:30am. The volunteers Ms. Rukmani and Ms. Monica taught the children dance for the most sought after iconic patriotic song "nanha munna rahi hoon, Desh Kaa Sipaahii Hoon, Bolo Mere Sang, Jay Hind, Jay Hind, Jay Hind "– which means A tiny moppet explorer, I am And a tenderfoot soldier of my land Come, sing along with me, fame be to my India"
The children were very excited and enjoyed dancing. The chief Guest Mrs. Shobha Banerjee hoisted the National Flag along with Child Keerthana. Everyone present - children, volunteers, parents, and staff in oneness of heart sang the National Anthem.
"It was a golden opportunity for me to share the tale of our struggle for independence while preparing the children for the final program'" said Mrs. Agnes (Indiranagar Crèche teacher). Children enthusiastically learnt the National Anthem and took pride in singing the anthem. Children were also taught about our National Animal, Bird and Flower.
Children thoroughly enjoyed sweets, special lunch and small gifts specially prepared for them by Ashraya.
PTA Meet:
The quarterly PTA meeting at Banaswadi community crèche was held on 13th August 2013. The teacher Mrs. Shashi discussed the progress their children were making, the curriculum followed and the significance of attending the PTA meetings and also encouraged 100% participation in future as well.
Banaswadi Community: Stray dog menace is one of the major concerns and the matters become worse at night as the canines are found attacking the pedestrians and two-wheelers. They also bark constantly, disrupting the sleep of residents. Mrs. Shashi proactively discussed and educated parents on measures to be taken to protect their children and the course of action to be taken in an emergency. She also educated them on the facilities provided by the local government through BBMP like – free medical care extended to below poverty line families and tackling stray dogs menace etc.
Corporate Volunteers:
GE: A group of volunteers from GE spent a day with the children at Indiranagar community crèche. After a quick round of introduction, they engaged themselves in games, singing songs and dancing with the children. Volunteers were thrilled to serve lunch to children and appreciated the fact that none of our children wasted food. The volunteers were very happy and thanked Ashraya for giving them an opportunity to invest their time fruitfully.
IBM: Volunteers from IBM visited Indiranagar and Banaswadi crèche on the same day – July 27th 2013. The team of 30 volunteers was divided into 2 groups. The activities were discussed and planned much earlier with their respective team leaders. They began the day by introducing themselves they then started to teach the children rhymes with some actions. The children enjoyed their interactions and imitated the volunteers. This was soon followed by paper craft such as toys, crowns, paper cars and chains. Later the volunteers and the children formed small groups and got all busy painting posters. The children were very happy and enjoyed coloring the posters with the volunteers. Volunteers captured many precious moments and thanked Ashraya for extending an opportunity for them to interact with the children.
Both the teams also deeply appreciated the work done by Ashraya in these communities.
The Social worker made regular visits in this quarter to monitor and evaluate the functioning and maintenance of the crèches. The doctor also paid monthly visits to the crèches to monitor the general health of the children.
Teachers and volunteers have been regular to their classes. Volunteers have been an immense help in areas like teaching and the extracurricular activities. The total number of children we reach through all the 7 crèches is around 220.
It is reiterated to all crèche teachers to achieve the goal of stimulating children's overall development, to promote their academic success, to ensure to increase their intellectual abilities, support their linguistic development through the provision of high-quality learning experiences.
On behalf of the entire Ashraya staff and Board Members I would like to thank you for your support. Your support and positive comments are the fuel that keeps us moving forward.
Appreciate all your support!
Thanks and Regards,
Evalin Christabel
Project Head – Ashraya