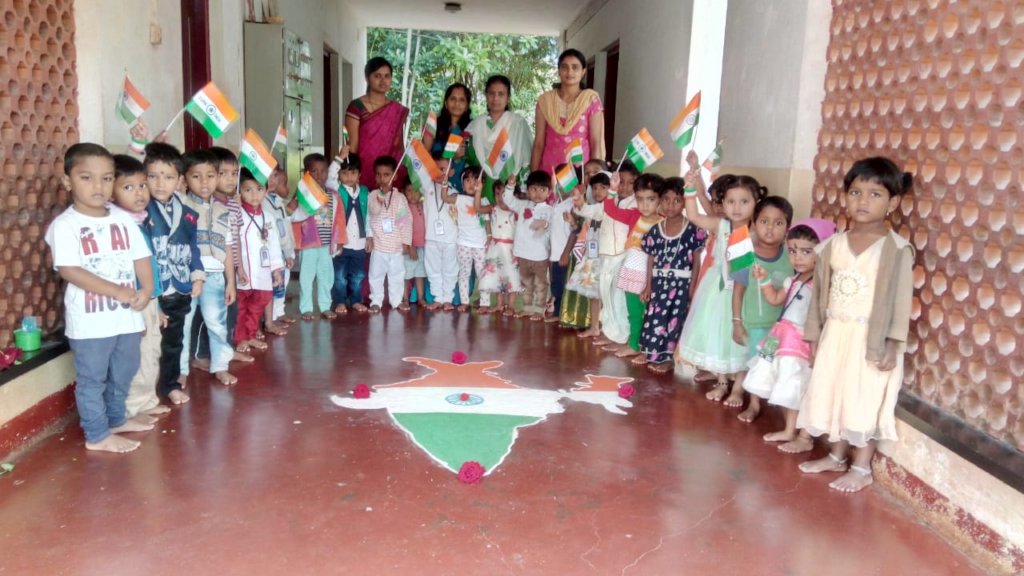 Quarterly for July to September 2018
The new academic year started in June 2018 with a mix of old and new students. The session included games and play activities to help the new children, (all in the age group of 2 ½ -3 years of age ) to settle in as this is the first time they were leaving their parents ad venturing into play group.
The highlights of this quarter are –
The crèche located at Siddapura which is sponsored by a corporate moved in to a new premises which was built by the corporate. Currently there are 26 children here.
Indian Independence day was celebrated on August 15th by all the crèches. The children were all served a special lunch on the occasion.
The number of volunteers has increased this quarter- yoga is being taught to the tiny tots along with play activities and creative, fun, craft activities.
Bridgin is a group of professionals who have joined to volunteer at different charities. Their volunteers have been active and committed to the crèches for a long time.
Health check ups and parent teacher meetings have also been held and all the parents have given positive feedback on the staff and services provided at the crèche.
A total no of 224 children attend the crèches this year -
Shivajinagar – Total 48 (boys 23 & girls 25)
Banaswadi – Total 38 (boys & 20 girls 18)
Avalahalli- Total 38 (boys23 & girls 15)
Siddapura- Total 26 ( boys 11 & girls 15)
Indiranagar-Total 44 ( boys 27 & girls 17)
Nelamangala-Total 30 ( boys 19 & girls11)