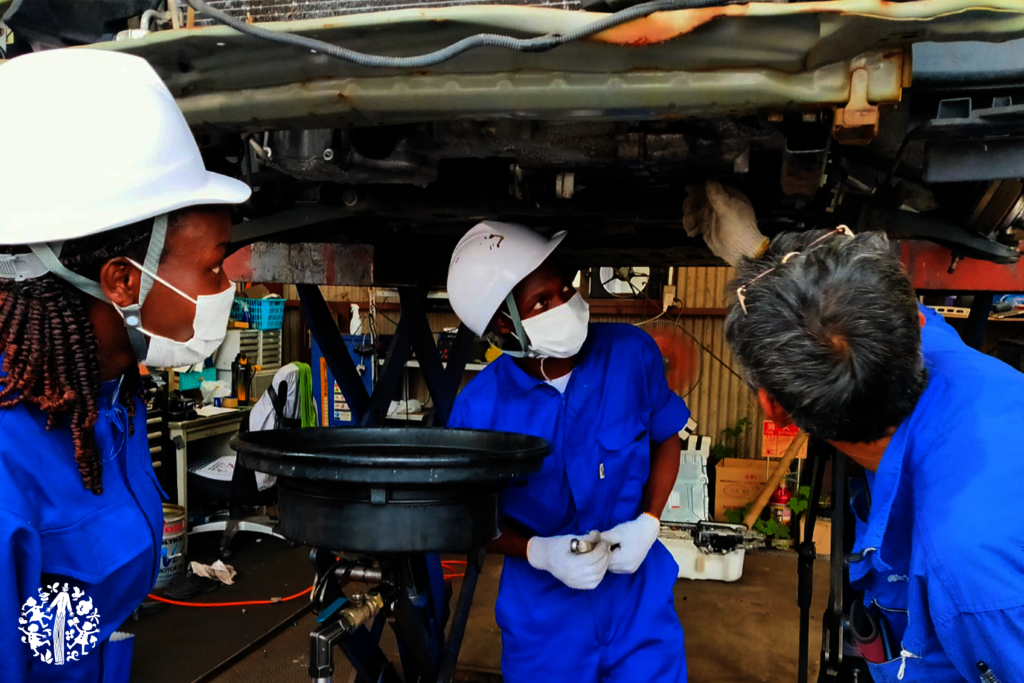 A core component of the AAI program is the mandatory internship (8 weeks or longer), that scholars must complete in sub-Saharan Africa while in the program.

For the past couple of years, we have partnered with many companies and offered scholars a chance to gain working experience in Africa. This year, however, their opportunities were affected by the global pandemic, like the rest of the World.
There was one opportunity was born out of the shared interest for business in Africa among Ashinaga Foundation, Big Wave Kawasaki, an automobile recycling and spare parts business based in Oita Japan, and looking to expand their activities in Africa, and Qunie, a leading consulting firm of NTT DATA Group with a wide range of activities in Africa.
The two Scholars who were invited to complete the internship, Patience and Walter, are from Uganda and both pursuing undergraduate studies in Japan. This offered them a unique insight into the car parts import/export industry that ties Japan to several African countries, including Cameroon where Big Wave Kawasaki currently has operations.

The internship provider took a great approach with the scholars, allowing them access to many of their business operations, including their dedicated strategy to developing an environmentally-sound business, with emphasis on building a recycling-oriented society. To conclude their internship, the scholars presented their learning to an audience of members from Ashinaga, AFRECO, Mainichi Newspaper, Mainichi Advertisement, and Qunie, all partners who contributed to creating this opportunity.
Patience, as a business major, enjoyed the insights in business modeling and mentioned her interest in exploring the possibility to establish a similar business model to that being conducted in Cameroon in Uganda.
As a mechanical engineering major, Walter appreciated the opportunity for a concrete application of his theoretical knowledge. Having an early understanding of the power of a powerful network, they also shared their excitement to have now expanded theirs and met potential mentors, future employers, and business partners.
The synergy highlighted by this unique collaboration between three actors is one in which Ashinaga strongly believes in. Both Big Wave Kawasaki and Qunie recognized the value in the fresh perspective from the future African Leaders that are the AAI Scholars.
While Ashinaga will now explore ways to make this opportunity a consistent one, we also strive to develop similar ones with new partners. We are particularly eager to develop such opportunities with companies with operations in Africa interested in interns/employees with an international outlook.
Links: