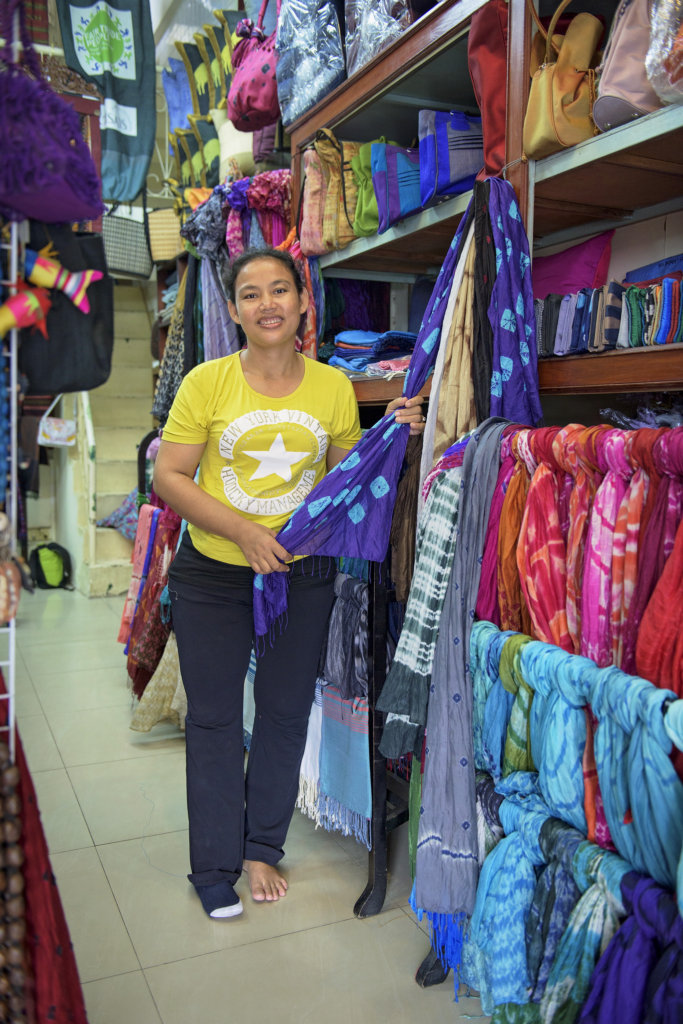 Dear friends of the Artisans Association of Cambodia,

Some 15 years ago, the World Rehabilitation Fund (WRF) with support from the United Nations Development Programme (UNDP) initiated the Artisans Association of Cambodia (AAC) to help those affected by landmines and other persons with disabilities to develop quality artisan products which we had determined would be attractive for international sales.  After a few years, AAC was able to develop as an independent Cambodian association completely managed by Cambodian personnel. WRF has continued to provide financial support and technical assistance to AAC.
We have found over the years that the AAC has made a tremendous difference in the lives of Cambodian artisans with disabilities. In order to help more people in need, the mission of the Association was changed to include other Cambodians who experienced disadvantage due to factors other than disability such as, widowhood, escape from human trafficking and other factors creating poverty. We hope that you will continue to support this effort as WRF's expands our reach and aims to serve more vulnerable communities.
Having begun the AAC with four member organizations employing nearly 100 persons with disabilities, the AAC now has 48 members who employ over 4000 persons, the overwhelming majority of whom have come from disadvantaged backgrounds. Over ¾ of the workers supported by the project are women, and women direct nearly 2/3 of the member organizations of AAC.

Member organizations of AAC have presences in 10 different provincial areas of Cambodia. These organizations strive to become social enterprises, having missions that involve both entrepreneurship and the promotion of social and economic benefit. Another major focus of members is to promote the use of ecologically friendly methods in creating products. Many of the groups have a strong focus on meeting the needs of women from vulnerable backgrounds and many members also have a major focus on the betterment of youth from impoverished backgrounds.

In our first year, AAC's four members showed sales of $250,000. This year sales are over $4 million, far higher than the $3 million anticipated for this year.

Through support from donors like yourselves, the AAC will continue to provide training and technical assistance to further the design, production and marketing of member products.

Significant events of the period between April through June 2017 include the following:
Artisans d' Angkor, the leading crafts organization in Cambodia, has joined AAC
Training sessions conducted for AAC members included workshops on marketing, use of e-commerce, export procedures and utilization of spec sheets
Technical assistance to members included the following areas: needs assessment; development of collections and new models; visual merchandizing; use of quality photography for promotion; retail processes; development of product catalogue; designing logos and visual identity displays; and branding
AAC members participated in trade fairs in: Vietnam; Frankfurt, Germany; Singapore; and Bangkok, Thailand
International sales of AAC products have included sales in 14 different countries and the EU. Countries include Australia, Austria, Canada, France, Germany, Hong Kong, Italy, Japan, Korea, Malaysia, New Zealand, Singapore, United Kingdom and United States
Volunteer experts to help AAC provide assistance to members include three volunteers from the French organization GINKGO on communication and promotion; and a volunteer from another French organization, Delegation Catholique pour la Cooperacion (DCC) on marketing
Aquarius Hotel in Phnom Penh has agreed to sell AAC products in its shop
These activities are all being carried out to help improve the quality and marketability of AAC member group products so that improved income can better the lives of the artisans and support staff, who are comprised primarily of persons who otherwise would be vulnerable due to disability and other impoverishing conditions.
Please check out the World Rehabilitation Fund website and examine the AAC catalog (link below) to learn more about the project and see the extraordinary handicrafts created by AAC artisans.

Thank you once more for your continued support! We look forward to sharing more about AAC's activities in the coming quarter. Until then, please know that we are most grateful for your generous support.

Warmest regards,

The WRF Team
Links: