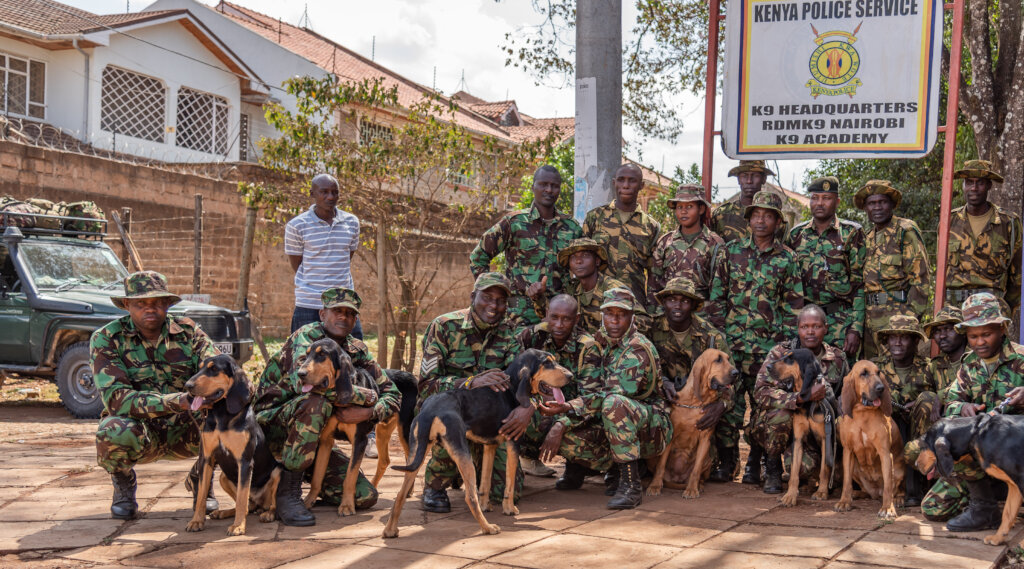 Thanks to your incredible support, Ol Pejeta's canine unit continues to be operational and effective. In the last four months, our canine unit has been deployed to address 31 incidents ranging from human-wildlife conflict, cattle theft, livestock raids, burglary and stealing. The impact of the canine unit also extends beyond the boundaries of the Conservancy. A small team of three dogs and their handlers were recently deployed to assist in a poaching incident at the neighboring Conservancy of Solio Ranch, where they tracked a poacher until the tarmac when they unfortunately escaped in a vehicle and the team could not pursue.
The canine team sits within the Security Unit and is critical to our anti-poaching and security measures, helping us ensure the continued protection of 210 rhinos (165 black, 43 white and 2 northern white) that call Ol Pejeta home. The Security Unit is dedicated to secure the landscape and create a safe space for survival. As a result of these efforts, 0 rhino have been poached in the last four years and 21 calves (19 black, 4 white) have been born this year - a Conservancy record! We are incredibly proud of this and want to thank you for partnering with Ol Pejeta to help us achieve this milestone.
To ensure the dogs remain highly-effective and responsive, they receive regular refresher training. With your support, the dogs and their handlers participated in a refresher training course over the summer, which covered tracking, scent handling and effective use, hygiene, health grooming and ammo searching. Alongside training, the dogs regularly undergo veterinary checks, deworming, and vaccinations against Rabies, Distemper, Hepatitis and Canine Parvovirus. It costs around US$150 per month to take care of each dog and give them the right nutrition they need to keep them happy and in good condition. Your support has enabled our team to ensure the dogs are a well-cared for and effective team, ready to be deployed 24/7.
Thank you so much for partnering with us on this project and for helping keep our K9 unit operational. The team remains committed to responding quickly and effectively to continue securing a safe space for people and wildlife in northern Kenya.
Asante Sana!