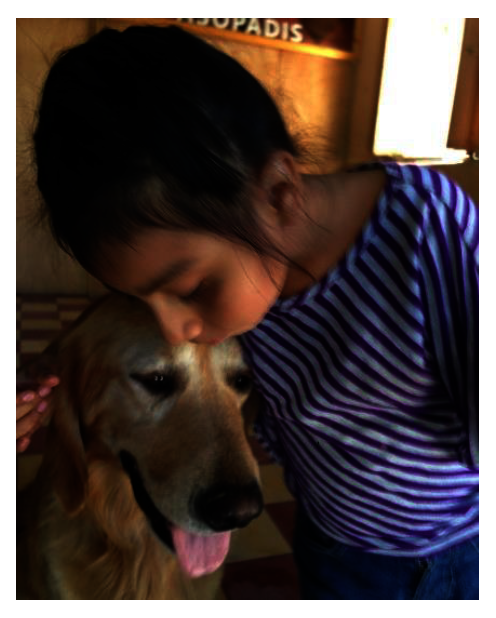 In this last quarter, our therapy dog, Mo'os, continued with his previous therapies and also began working with a group of five children with various disabilities. This new strategy allowed these five children to socialize with one another as well as with Mo'os. One child with Down Syndrome, in particular, has benefited from this new strategy. Once very aggressive in group settings, this child was able to integrate himself into the group and collaborate with Mo'os and the other children.
Mo'os created a pleasant, enjoyable, and loving environment for many children with disabilities. These children had fun working with Mo'os and made important advances in their rehabilitation plans.
Nataly, a child with Cerebral Palsy, was initially scared to walk alone, however, supported by Mo'os, she felt secure walking and little by little her balance and coordination improved, eventually learning how to walk independently.
Eduardo, another child with Cerebral Palsy, worked closely with Mo'os. By jumping through circuits, climbing up and down steps, and walking in zigzags to deliver "a message of love" to Mo'os, Eduardo improved his coordination, memory, and fine motor skills.
Gaspar, a child with Down Syndrome, loved coming to Animal Assisted Therapy. With Mo'os, he worked on his numbers and colors in order to improve his attention, concentration, and memory.
Samuelito is also a child with Down Syndrome that worked with Mo'os for several years, brushing Mo'os' fur from his head down to his paws, singing a song to signal the different parts of the body, and practicing his numbers and colors. In this time, Samuelito also improved his concentration and fine motor skills.
Gregorio, a child with Cerebral Palsy, used large tweezers and animal-shaped toys, placed on top of Mo'os' body, to improve his fine motor skills. This therapy allowed Gregorio to pick up the toys with the tweezer in his right hand, his most affected hand, and hand them off to the therapist.
We could go on and on, mentioning the significant achievements and advances of every child that has received therapy with Mo'os. Unfortunately, Mo'os' time has come to end. Last week, Mo'os passed away because of a genetic condition that ultimately resulted in renal failure.
The lessons that he left us, the achievements that he showed us, and the joy that he gave us are reason enough to find another dog that will allow the Assisted Animal Therapy program to continue. However, due to the untimely death of Mo'os, we have decided to temporarily suspend this campaign. Assisted Animal Therapy will continue at Adisa, however, it will take a few months to find and train a new therapy dog.
We are immensely grateful to everyone who has contributed to this project. Thank you for your support and stay tuned for more details on our next Animal Assisted Therapy Campaign!