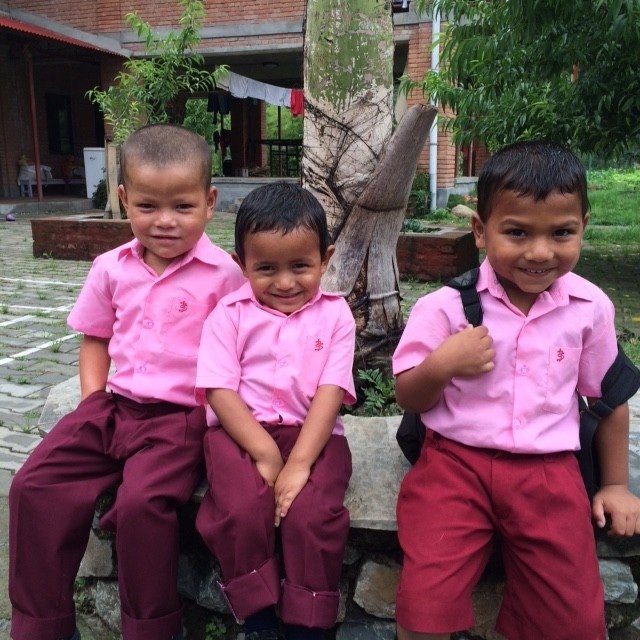 The earthquakes may be over, but along with the aftershocks, the effects of the earthquakes remain...
Imagine thousands of children between the ages of 4 and 17 who have lost their families, trying to find a safe place where they are not subject to the tempting offers of traffickers or the horrors of abuse. This is the situation in Nepal, and at Ama Ghar, we are working with anti-trafficking groups to help them find a safe haven - some of them in our home.
Thank you again for your generosity in supporting our earthquake relief fund. Your gifts helped us to provide shelter, solar power, medical supplies, hygiene supplies and child safe spaces to our neighbors and others in remote areas who had lost their homes in the earthquake. The next step for us is to help children displaced by the earthquake to find a loving home, nutrition, medical care and an education. If you'd like to help, please go to our new Displaced Children's Fund on Global Giving. Your kindness will give these children hope for a real future in the new Nepal that is rising from the rubble.
We have taken in eight new children at Ama Ghar since the earthquake; most of them were frightened and traumatized when they arrived, but our staff and children are doing everything they can to make them feel loved and welcome. Slowly, the tears are turning to smiles. Here are their stories:
Ram, age 12

Laxman, age 9
Laxman, who is Ram's younger brother, has started to show that he is getting settled in and engaging more with the other children. He seems to like school and is doing well, but what he really likes is playing caroms with his new Ama Ghar brothers and sisters.
Anjana, age 8
Anjana spent only two days at Ama Ghar before she began asking to go to school – she was ready right away, while others take more time to adjust. Anjana is quiet and doesn't smile, as she lost her bottom front permanent teeth in an accident of some kind. She needs time to develop trust, but she is tentatively getting to know her new brothers and sisters.
Nirjala, age 6
Nirjala just arrived last week, and she hasn't get go of the stuffed puppy she received on the first day. She is very, very thin and has a lot of infections on her skin. She has been seen by our wonderful Dr. Neelam Adhikari and she will heal quickly. She is very timid but is starting to explore.
Alisha, age 5
Alisha just arrived but is already sleeping well. She got a pink stuffed bear when she arrived, but it hasn't held her interest. Her continued request is for "chewing gum" and "cheese balls", both taboo items at Ama Ghar, poor little thing. She is quite talkative and likes to be with our house father, Bhesh.
Ramit, age 5

Another recent arrival, Ramit seems to be happy to get his uniform on and march off to school with the others. It did take him a few days to smile but he has been a busy boy with Lego and crayons. He seems to like vegetables which sets him apart from others!
Badi Ram, age 3
Badi Ram is a happy, smiling, very active little boy. He has become used to the older girls taking turns holding him, and he is quite the kisser – just show him your cheek and you get a kiss. He has started nursery school, and it will be a challenge for his teachers to manage his energy.
Jeevan, age 5
Jeevan is an active boy and loves the attention he gets from his new older sisters. On the surface he seems to be adjusting well. He still has trouble at night with bedwetting and being afraid of the dark. He is anxious to get ready for school and is a good eater.
Links: