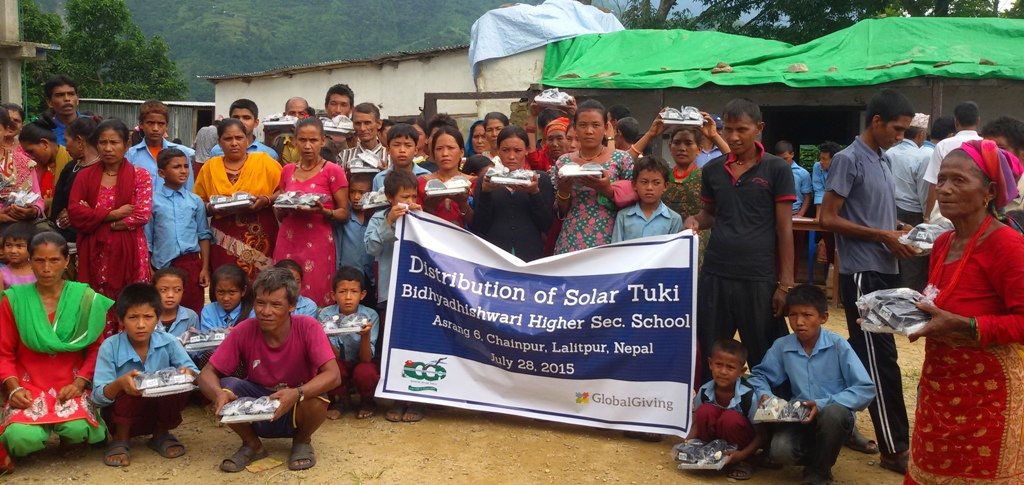 On July 28 2015, with financial support raised through Global Giving, ECCA distributed Solar powered lamps (along with Solar panel) in Bidhadheshwari Higher Secondary School of Asrang in Lalitpur district as part of relief activities for the victims of April earthquake. Each of 400 households received two lamp units and one solar panel. Initially being scheduled the day before, bad road conditions (arising due to landslide) on the way to Asrang delayed the Solar Tuki distribution by one day. Nevertheless, school students and parents came again the next day to receive Solar Tukis for their homes.
In Asrang village, Lalitpur, around 97% of the houses got damaged in April's earthquake and recovery process is taking time. With most of the electrical infrastructures damaged during the earthquake, the residents of Asrang had been facing problems of lighting during night time. Those who had access to kerosene lamps were in no advantage because of probable health hazards. Educational arena of school children was equally affected. Thus, to improve the living and learning condition of people of Asrang, distribution of solar lamps and panels was prioritized since it has multiple advantages. Solar Tukis provide a stable and environmentally friendly source of lighting to the families in their homes or temporary shelters.
"Some children have to walk for 3 hours to get to the school", says a teacher. The village school Bidhyadhishwari Higher Secondary School, which is located on the top of a hill, was severely damaged during the earthquake and the destroyed classrooms were replaced by temporary learning center (consisting of bamboo-structured huts with space for about 30 children, but cannot provide the same teaching conditions as a solid building). "On top of this challenging surrounding, the students have to work hard to help the family when they return from school in the afternoon" the teacher informs us. That's why it's even more important to help the students to improve their living and learning conditions.
"Now we can study anytime we want. Most of the time, we are busy helping our parents with chores. But now, not even darkness can deprive us from studying. From now on, I will study even harder", said Sandesh, one of the students.
We would like to thank all our supporters and donors for helping us in post earthquake recovery activities. Without your help and support, we would not have been able to achieve success in helping the earthquake affected people.