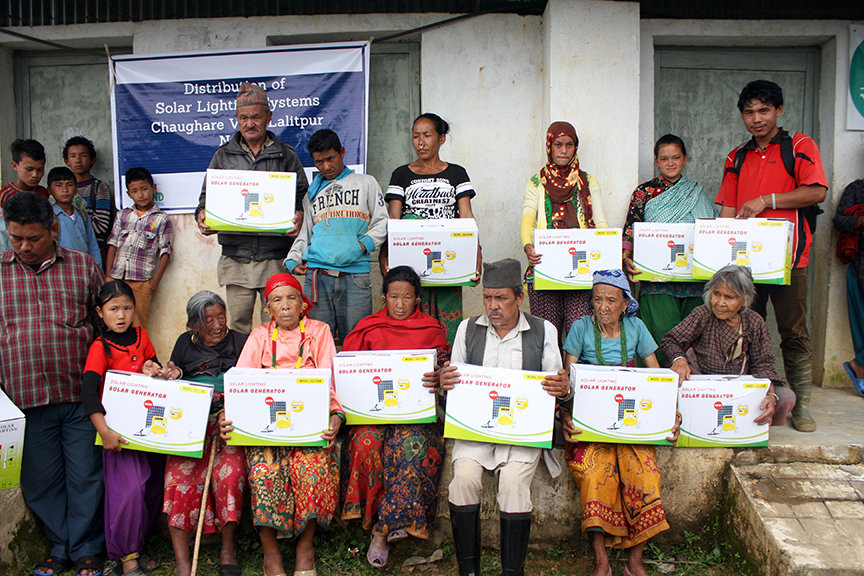 27th July 2015, was a clear and sunny day when our team left ECCA-office for an approx two-hours-ride to a small village located in Chaughare VDC, Lalitpur. In the fond of our car, there were Solar Lighting Systems to be distributed to EQ affected families in need. Additionally, we carried various piles of note books for the students in severely damaged school in the same area. I feel it was a short trip, but the activities with a long-term impact.
Some families were already waiting for us when we arrive at the partly destroyed school yard (Shree Gyanodaya Lower Secondary School, Chaughare) to distribute the Solar Lighting System. The system distributed consisted of 2 bright bulbs along with the mobile charging facility and radio inbuild in the system. This reliable and environmentally friendly source of electricity for their homes. will keep the family members safe during the dark hours of night time and support the family members connected with communications and information.
As we had limited system to support the community members, Mr. Tej Lama (Chairman of School Management Committee) supported us through identifying the highly needy family members in the community. Families with old aged members, disabled members, nursing mothers, and school going children were highly prioritized in the distribution.
Amongst them, there's a 99-year-old lady with her great-granddaughter. She still remembers her earthquake experience of 1933 and shared about her experience during that time. The great-granddaughter also shares her joy with other children and gathers together with her friends who all love dancing.
In the scenery of the partly destroyed school yard, the Solar systems stand like a symbol of hope and shows that earthquake recovery and ecology can go together hand in hand. And apart from providing electricity for the basic needs of families, there will be still enough solar power for playing music – so the girls can go on dancing!
It is made possible due to your help and support. Thank you for your help and support. We would also like to thank Mr. Kushal Gurung (CEO) of WindPower Nepal and The Mayor Hotel for supporting the solar system for the families of Earthquake Affected families in Nepal. Please share the news in your network so that together we can bring greater impact in our community. Do support us through visiting our Facebook Page, Twitter, Blog and Youtube Channel along with our website.