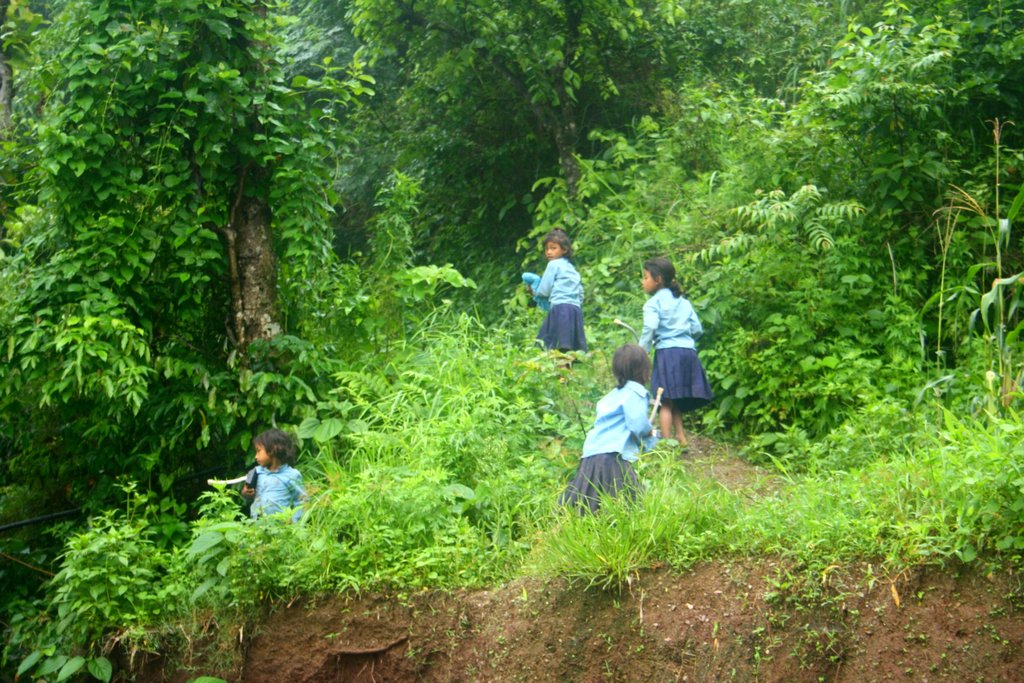 Technological advances has the human race reaching new heights. There's nothing that we don't know of. Developments in the sector of technology, banking, fashion and ideas are changing the way we live. We want it all, and we want it more. Like our developments, there is no limit to what we want.
Far away from all of this in the Glauthok and Wakran villages in Chitwan where road, electricity and health posts haven't yet found its way, residents are living an almost nomadic life. Comparatively. Small traditional houses, maximum of two stories, minuscule windows that barely let the light pass in the room, and an attached animal shed. Here, animals are as important as your meals as they are the only source of income of some families. When ECCA went there for its 'Light For All' Campaign, staffs were appalled at the situation. No one had attempted to spare a glance outside the window into the infinite opportunities.
One of the main enemies of development is illiteracy. To fight this problem, government has established a fair number of schools in the area. Its accessibility is another story, but students venture to walk even a couple of hours to go to their schools and be educated. By the end of the day, the students would be exhausted and for the effort they put, no good result is harvested. There is no light at night to study with. Parents, too, hesitate sending an extra pair of hands to two-hour worth of exhausting walk away to get education that will not be useful. So what could've been done?
The objective of distributing solar 'tuki' in this area was not to bring drastic changes. This was to merely fuel the fire that the residents had in them. As per the strategy, students were given a solar 'tuki', stationing the mass charging device in the school. So students, obliged by the 'tuki' and their studies, would attend the school. This is not the first place this idea was implemented. But the results were heartwarming. Then, tattered clothes and lack of facilities barely mattered. Light a match, light the kindle – the residents of this forlorn place only needed someone to tell them that they can do it. It's only a matter of time, before they will accomplish what had seemed impossible.
Your support means a lot to these people. Wakran and Glauthok aren't the first place where our project has brought hope to, neither will it be the last. And please, let us not stop here. We express our sincere gratitude for your help and look forward to your suggestions regarding our works. For more updates, visit our Facebook page, Twitter, Blog and YouTube Channel, along with our Website.
Thank you!