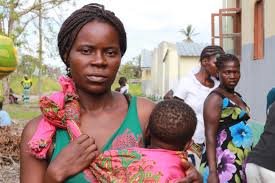 When natural disasters occur, organisations and even individuals make vigorous efforts in providing relief to the affected communities. The Community Foundation for the Western Region of Zimbabwe is also counted amongst those organisations that sought to ease the burden of those affected by the trail of destruction left by Cyclone Idai in March 2019, paying particular attention to the girl child and women.
The organisation had an ambitious goal of raising USD900 000,00 so as to buy hygiene kits made up of sanitary pads, bath soap and towel, petroleum jelly, washing powder, tooth paste and tooth brushes for 13 000 women in the Chimanimani area for a period of three months. Although the situation may have calmed down by now and people have started reconstructing their lives physically, mentally, emotionally and even socially, there are still those that cannot afford basic necessities such as sanitary wear.
With the funds received from you, that is, a total of USD652, 00 Community Foundation for the Western Region of Zimbabwe will purchase sanitary pads and distribute them to selected women in the Chimanimani area. Considering that we were unable to meet our target, it will no longer be all the 13 000 women that will receive the donations. CFWRZ will work closely with ASAP, a Non- Governmental Organisation operating from the area to select those that are in most need of sanitary wear.
The Community Foundation for the Western Region of Zimbabwe will continue seeking for donations from both the local and international community. These donations can either be in cash or in-kind. The women in Chimanimani are at a greater disadvantage because not only is sanitary wear and other hygiene items inaccessible but these items, as necessary as they are, are also very expensive. Providing them with hygiene kits will lighten their burden and grant them peace of mind.
As we celebrate the International day of the girl child, the Community Foundation for the Western region of Zimbabwe appeals to the global community to consider the rights of the girl child by donating towards the provision of sanitary wear to the young girls in Chimanimani. We therefore appeal to you to share this initiative with your networks so that together we work towards empowering the girl child.
Links: