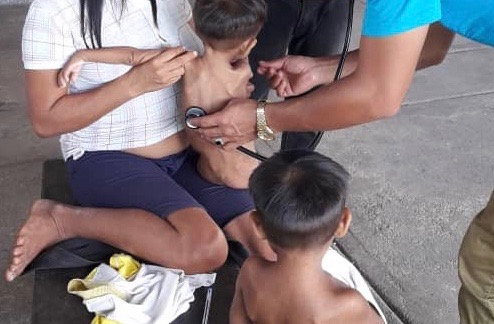 Two years ago, an entire network of sensitive, committed people working in solidarity got together and articulated ourselves to really try to help alleviate the problem of malaria in key Venezuelan Amazonian Indigenous communities. Together with these committed individuals, and the concerted efforts of communities themselves, that initiative has been incredibly successful: even now, there has not been a single reported death from malaria in any of the three communities where the project distributed and trained residents on the use of nets.
"They love them, they absolutely love them," says Egleé of the nets—and they continue to use them. The only suggestion for improvement? A community review, conducted recently through the radio, indicates community members like the nets and have put the nets to very good use. The nets have had a very positive effect in reducing morbidity (illness), as well as mortality. The only suggested design improvement? As the chemical repellents have begun to wear off the nets over time, tiny midges and no see 'ums are becoming bolder, and making their way through the mesh of the netting. Eglée and Stanford are contemplating a slight redesign for the replacement nets, which they hope to reorder and deliver this fall and winter.
Right now, though, Venezuela remains at a standstill: there is no fuel available to transport supplies by plane or truck to communities--or to transport patients facing serious illness or injury to medical treatment. And while an active Indigenous-led policy of isolation has largely protected remote communities from COVID-19, it cannot protect from all forms of illness and injury. It is also very difficult to obtain many needed supplies and medications locally, and those impacts are greatest on already marginal communities.
Indigenous patients facing extreme medical issues often arrive walking—or carrying infants and children—to the main hospital in the capital city of Puerto Ayacucho Amazonas State. Children are arriving very sick at hospital. Sometimes people arrive so ill that the hospitals are unwilling to accept them—and the hospital, too, has limited supplies.
Given that it has not possibility to directly deliver medication and supplies to address malaria to communities in the past 4 months or more, we have pivoted to redirect a limited quantity of project resources to support some of those determined patients seeking care. The project has helped Piaroa and Jotï patients, as well as Yanomami, Yek'wana, and members of other Amazonian ethnic groups. We are working through the same network of dedicated project partners who enabled us to deliver the mosquito nets, and extending our connections to partners to whom they introduced us, like Astríd, a woman who has an unflagging commitment to the health of Indigenous people, and supports patients with difficult cases.
Most of the cases we have partnered to support are those of Indigenous women and children: the most vulnerable. We have sent small tranches of money designated for specific cases: $40, $60. These funds supported have supported three women with breast and cervical cancers, and a woman with problems in the digestive tract. The funds have covered fees for x-rays, blood tests, 4 diagnostic breast x-rays, simple but specialized surgical apparatus to support care, and nutritious food to aid in recovery
With care so difficult to access, sometimes by the time patients arrive the care offered can only be palliative: despite support for medication and food, a Yek'wana mother who arrived at the hospital with a dramatic case of cerebral tuberculosis passed away. She was 33 years old. Project funds, though, have also successfully supported Indigenous children: kids with poor nutrition and malaria, surgical evaluation for children with hernias, with a broken femur, and two with injuries from snakebite. The difficult cases continue: just 3 hours before we sat down to write the report, a little girl arrived with 16% of her body affected by 3rd degree burns.
Those seeking medical care are resourceful. "When you send resources," says Egleé, "Indigenous patients who are mobile go where the resources are." Thank you for sharing your resources: you have helped us to extend a small, protective net of care, patient by patient. Thank you for your solidarity with Indigenous Venezuelan Amazonian communities striving to care for one another, to find resilience, health and wellbeing in these challenging times.