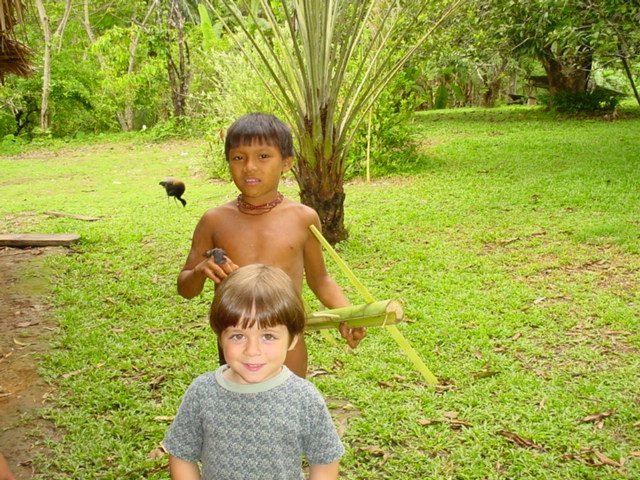 Jkali, pictured above as a boy, has been this project's main point of contact with his Jotï community, Caño Iguana. He received messages via the community's radio, and relayed them to the project via WhatsApp message, using a project cell phone. Since he was able to catch a flight into the community in February, carrying the medicines and supplies sent by the project, we have not had any direct communication Caño Iguana. But we continue to receive news! Another group has supported the purchase of a satellite phone in the community. Now community members are able to send text messages every few days, keeping allies abreast of health issues, emergencies and difficult situations. Our project, in turn, receives news via those text messages—including the news that Jkali and the medicines arrived in good order. He has remained there, protected with his community from COVID by isolation.
The project leaders' relationship with this group supplying the sat phone dates back nearly 30 years. When Egleé and Stanford first visited the Jotï, in 1994, the group's representatives were suspicious of the young anthropologists, perhaps because of a previous experience with fractious graduate students. But after 2 years, in which the pair kept a respectful, low profile, the group came to appreciate their shared commitment to work for the community's wellbeing, and have kept up a friendship ever since.
Egleé says, "The Amazon is difficult, very complex. If you start out in conflict, you won't survive. Instead, our relationship has been one of cooperation and respect."
School director Gerardo and his family have remained in town, and he continues to relay messages received via radio from his Jotï and Eñepa home community of Kayama. Project leaders learned some sad news that way, recently. Alberto, "one of the wisest men in Kayama", passed away; he and his wife drowned when their canoe overturned. He was still strong and in good health, in his mid-fifties. The Jotï , Egleé says, are people of the mountains and deep forest; most of them only began to use canoes about a decade ago. "We met Alberto on our first visit to the community, in 1996," she said, "He was very dear to us." The radio has its limits; Gerardo didn't have many details.
In February, a trainee doctor in his last year of residency was able to reach Kayama. He entered at the insistence of Gerardo, who was concerned about possible cases of COVID in the community. Fortunately there were none, but there were a few cases of malaria, and respiratory and stomach infections. The doctor spent just 3 days, but brought with him medicine that the project sent from the U.S., and other medicines and supplies purchased locally with project funds.
The copies of the book which the community co-wrote with Stanford and Egleé were published in Venezuela, but most have remained locked up in a deposit. On that same flight that carried the young doctor and the medical supplies, though, 15 copies of the book entered the community of Kayama, and it has been very well received, with delighted reports coming in by radio. Egleé isn't sure whether they, in turn, have shared copies with Caño Iguana yet; a 529-page book is a lot to carry on a 4-5 day walk, over 100 km away.
Most recently in Kayama, Gerardo reports that there are many children with respiratory infections right now, who are at risk of developing pneumonia. The project has sent--and will send more--funds for medicines, to be delivered at the next opportunity. In addition, we plan to send anonther round of medicines and supplies via a monthly service that delivers items to Venezuela via container ship.
Thank you for your gifts, which make this continuing relationship of cooperation and respect possible, even in the hardest times. To celebrate the longstanding character of the connection with these communities, I asked Egleé to share some photos from the archives. Below are her selections, from the early to mid 2000's, in and near Caño Iguana and Kayama. "What nostalgia!" she says.