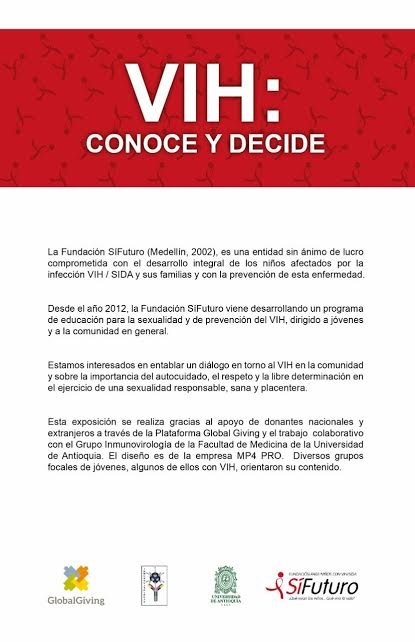 SiFuturo Foundation (Medellín, 2002), is a non-profit organization committed with the integral development of children with HIV and their families and the prevention of this disease.
Since 2012, SiFuturo Foundation has been working on an education program about sexuality and HIV prevention, aimed to young people and general public.
We are interested in establishing a dialogue about HIV among the community on the relevance of selfcare, respect and free choice of healthy, pleasant and responsible sexuality.
This exhibition has been developed thanks to national and international donors, through GlobalGiving, and the colaborative work of the Immunovirology Group at the Faculty of Medicine of the University of Antioquia. MP4 PRO designed this exhibition. Several focus group of young people, some of them with HIV,gave us their suggestions about the contents of the exhibition.
The first photo: "It all started when we decided to hunt them"
The origin of the Human Immunodeficiency Virus goes back to the beginning of the 20th century in central Africa, specifically in the region known today as Kinshasa, capital of the Democratic Republic of the Congo.
The initial infection occurred by transmission of the simian virus to humans, probably by direct contact with contaminated blood or tissues during hunting or handling of meat. Later, the spread of the virus was facilitated by the mobility of the population.
The first people who developed AIDS were men, detected in 1981 in Los Angeles, United States. The infection quickly spread, and since then more than 37 million people have died; at the end of the 2015, close to 36 million people were living with HIV around the world.
Please, expect more tomorrow...