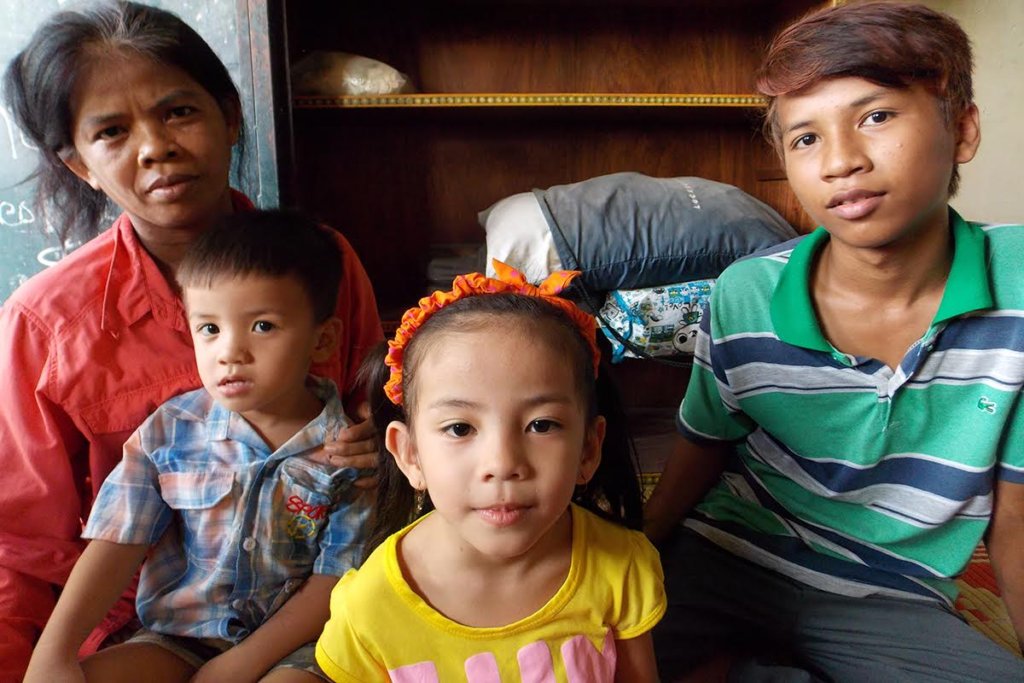 GlobalGiving Annual Bonus Match Day is June 15 !
Bonus Match Day ( 9:00-23:59 EDTon June 15, 2016
There are $110,000 in matching funds available.
Max donation of $1,000 per donor per organization ( not per project!)
The "big story" and the price of garlic....
Project updates are sometimes hard to write because much of the work that we do is quiet and not very exciting to read about. A large part of what we do is to function as " family" for our families, helping them to help themselves. While we always like to tell a story that has a shows a concrete example of the benefits of our efforts, such as getting and keeping children in school, sometimes the "big story" is simply about being there to offer the support that allows a family to function instead of breaking apart.
Introducing Nhieng
Nhieng's family has been a part of our program for a number of years. Nhieng has AIDS. She is about 40 years old and she works hard to support to her three children. We met Nhieng some years ago in the mid 2000s before the ready availability of antiviral AIDS medications and we expected that she, like so many mothers in our program, would survive just a year or two. Like other families in her situation, life changed radically when new antiretroviral AIDS medicines became available and her stable living situation supported by our program, qualified her to access these life prolonging drugs and medical treatment. Now, several years later, she is still with us. Her health, despite AIDS, remains good enough to allow her to try to support her family which consists of a son from a first marriage and two other young children from a subsequent relationship. The son is now turning 18. He completed grade 8, but dropped out of school in grade nine. Suffering from severe depression, he stays at home. Her other children are a daughter age 6 and a son age 3. To the best of our knowledge, the children are not HIV positive.
Despite her HIV status and difficult life, Nhieng is not a quitter. She works hard to try to support her family by peeling garlic in a produce market near to her home. She receives Cambodian Riel 3,000 (about $0.75) per kilo ( 2.2 pounds) . Nhieng works all day, 7 days per week, doing this work. She can complete up to about 3 kg per day earning about $2.25 per day or about $68 per month , less if she is unwell and unable to work. Obviously, this is not enough to support a family of four but Nhieng continues to work hard to help her family and the support from our program of about $ 140 per month makes life bearable by providing shelter, additional money for food , access to social support and continuing access to medical care. Beyond this, her younger children are safe from trafficking and they will have an opportunity to access the education so needed by children to break free of this cycle of poverty.
Our program to help moms with HIV/AIDS to support their children is not a headline making, quick fix program, but a program that recognizes that it is too late for these moms to build a successful life for themselves. Instead , we focus on providing humanitarian support to keep these fragile families together, keep children safe and give us time to help the children in the families to build a brighter future through education.
Your support helps us to help our families. We continue to support a family for an average of about $ 140 per month. We are deeply grateful to you all for your generosity and we encourage you to consider making a donation during the upcoming GlobalGiving Annual Bonus Match Day on June 15 where your donation can receive a bonus match of 50% on a donation of up to $1000 per organization.
Thank you again for your generous support of our families.
Barbara & Mark Rosasco
Links: