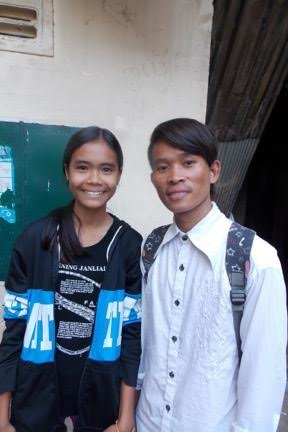 Please join us ednesday July 18 at 9:00am for the GlobalGiving 50% rBonus Match Day.
Your contribution of up to $500 can receive a 50% match. Matching funds ( $120,000) will be awarded first come , first served , so please set your clock for 9:00 am New York Time!
How two Kasumisou Foundation projects are helping one student leap forward.
We have written about Vichet's family before, as this family has been in our care, in our Family support Program (FSP) since 2002 when Vichet and his brother, orphaned, were being cared for by their grandmother. As is the case for many families, over time as the boys grew up, the family split apart , with Vichet remaining with his grandmother. In more recent years, Vichet's young cousin, now age 13 was also orphaned and came to live in the same household, where we provide help with housing, social support and other services. Vichet has taken on the responsibility of supplementing the household food budget and works full time.
As many of you know, our FSP, while providing essential living support such as food, housing, access to medical care and the like, strongly emphasized the value of education as the primary way to break the chain of inherited poverty. USAID statistics estimate that while 96% of children receive at least some elementary education, just 34% attend lower secondary school and just 21% upper secondary school ( high school) with graduation rates being estimated at a much lower rate.
It is a considerable accomplishment to even make it to high school and diplomas are awarded only upon completion of a difficult national examination. Vichet's educational progress was uneven, but he stayed with it and last year completed grade 12. Sadly, he did not succeed in his first attempt to pass the national exam for a high school certificate. Despite working full time loading trucks and delivering household products for a distributor, this year Vichet to continue his studies on his own and he was able to pass his exam. Vichet continues to work and makes about $ 150 per month, most of which goes to pay the family's food expenses .
Last month Vichet began attending evening classes, taking foundation courses in English at Panasastra University in Phnom Penh . He attends classes in the evenings after finishing his work. Vichet is working to prepare for enrollment. Hopefully after completing two semesters of foundation study, Vichet will enter a degree program in English language and literature.
Vichet's goal is to qualify for work as a tour guide in Phnom Penh. However, he is very intelligent and hard working, so depending upon the results of his university studies we may encourage him to pursue a more ambitions goal for his future.
We hope, in the near future , to invite him to join the staff at our Champey Academy of arts and to live at the school. This would allow him to avoid a very long daily commute between his grandmother's home in the resettlement district and his job and university in central Phnom Penh.
This project shows how a life can change and catapult forward with the right combination of financial and social support combined with a strong work ethic of a young man determined to lift himself out of poverty.
Vichet's young cousin, is also an excellent student and we have high hopes that she will follow Vichet's example of hard work, determination and family loyalty.
Our support of fragile families like Vichet's is only possible due to the generosity of you, our donors.
We hope that your can join us on July 18th for the GlobalGiving Bonus Match day to help your donation work even harder.
Barbara & Mark