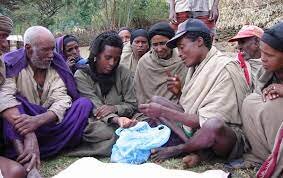 Quarterly Progress Report, it is known that our Organization Tiruzer Ethiopia for Africa (TEA), Aid to Drought and Conflict Affected people in Ethiopia (58760) project, is providing temporary water to the sheltered areas as well as sustainably extracting underground water to use it for drinking and irrigated farming.
As a result, we were able to help the Internaly Displaced People (IDPs) in Debrebirhan, Shewarobit and MehalMeda by coordinating volunteers and distributing water, food and cloths for more than five thousand children, women and the elderly. For this, with the help of cash, inkind and professional support we received from five water tanker truck owners, 175 young volunteers. With this, we have been able to help those who lack clean drinking water.
However, as the number of evacuees is constantly increasing, acute diarrhea and vomiting disease have occurred due to lack of sanitation.
Dear donors, Ethiopia is more than ever, where millions of people have been displaced due to internal conflict, drought has spread, more than 20.5 million people need urgent food aid. Apart from providing temporary water by boat truck, it is important to draw out surface water so that people and animals can get clean water and farmers can ensure their food security through irrigation.
One of the challenges we face is that we cannot find volunteers to do our online fundraising using the GlobalGiving System.
Dear volunteers, donors, ITC experts, all those who work in various private and government institutions, etc., you can coordinate and collect online fundraising work in a way that is convenient for you, and if you are convenient, you can come and work together in person withus in Ethiopia. We respectfully ask you to help us from wherever you are by using various social media platforms.