Project Report

| Nov 12, 2020
FIGHTING THE 2 SIDES OF COVID-19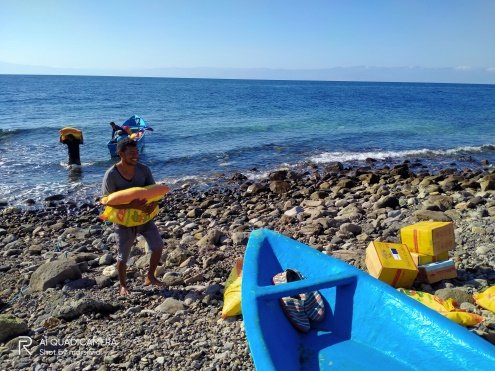 FIGHTING THE 2 SIDES OF COVID-19 WITH HEALTH PREVENTION AND ECONOMIC RELIEF
Timor-Leste has been protecting itself from COVID-19, registering only a few cases, by implementing restrictions and closing borders. Nevertheless, the threat is still present and also has another insidious side effect like anywhere else: local economy is highly impacted and people are suffering long-term consequences, like in remote communities from Atauro Island.
In addition to drought, the lack of tourists due to COVID-19 has impoverished local communities producing handicrafts in Beloi, Vila, Makili, Arlo, Makadade and Uaru-ana. During the last months, Empreza Di'ak identified more than 100 artisan households whose income has decreased drastically since the outbreak of the pandemic.
Your donations and a European Union support made possible the installation of "Tippy" taps for hand washing, distribution of 200 facemasks, 2,000 bars of soap, 3.4 tonnes of rice and 680 litres of cooking oil.
In addition, 30 vulnerable households, selected by a committee of local authorities at "suku" and "aldeia" levels, were supported with food aid and breeding ducks for 4 of the households that will allow them to develop an income generating activity. The donation includes also duck breeding facilities, duck food and advice on breeding.
In compliance with the Government's recommendations on safe schooling, this Empreza Di'ak's initiative supported by your donations and #TeamEurope installed a water tank and hand washing appliances at Vila's Secondary School for the benefit of 630 students and teachers.
Please follow - and share! - our work on Facebook and Instagram.
More than ever, your donation to this project will contribute to reduce the impact of this global crisis, by giving Empreza Di'ak and artisans the means to address the challenge.
Thank you for standing beside us!
Keep safe