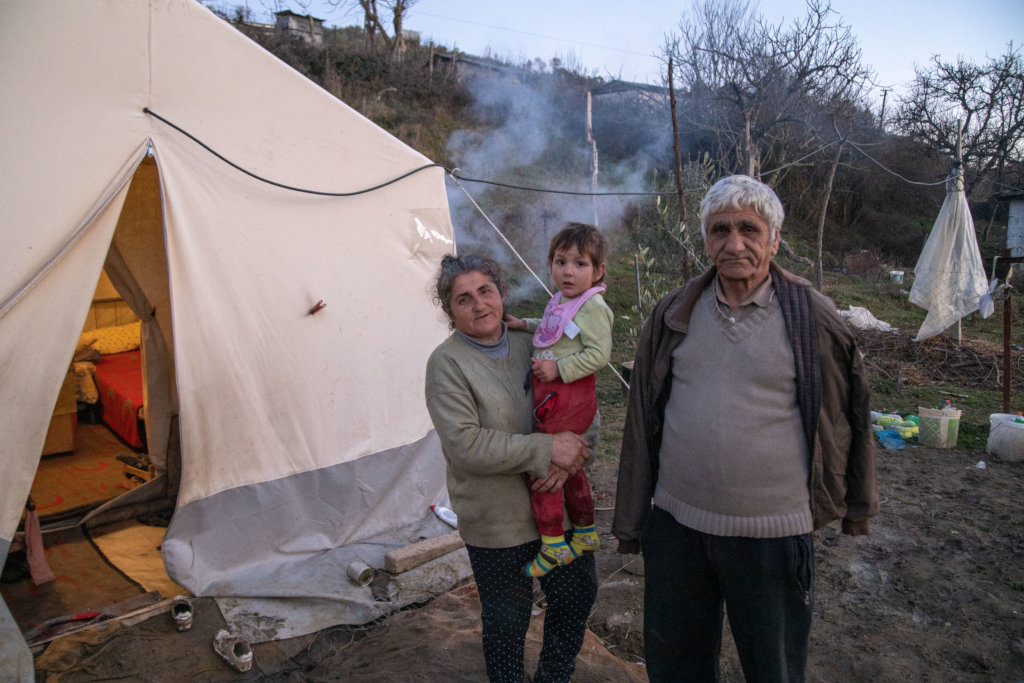 Nehemiah Gateway team members recently visited the village of Peza, which is located about 40 minutes by road southwest from Tirana. Peza has a population of about 7000 people, and is noted in Albanian history as the site where, in 1942, Albanian resistance forces gathered to coordinate in the fight against fascism.
This small community was hit hard by the earthquake: the local school was so badly damaged it had to be demolished, and the medical clinic was moved to a new, rented space. Sixty-three families lost their homes altogether and are currently living in tents, in the dead of winter.
When the earthquake hit Peza, Tahir and his family were at home. They ran outside in the middle of the night, and spent the following hours sitting on the doorstep of their home. Their house has since been condemned due to heavy damage caused by the earthquake. Since then, they have lived in a tent and in a temporary living structure provided by the local government.
Naim's family also lost their house in the earthquake. Although the tent they now call home holds a small stove, their children, ages 4 and 7, have struggled to stay healthy. The cold and damp of Albanian winter challenges the immune system—especially in circumstances where it is so hard to keep clean. When the NG team visited, one of the children had been sick for almost two weeks and had a high fever.
Among homeless earthquake survivors, these difficulties are all too typical. In winter, nighttime temperatures are below freezing, and the rain and snow are cold. In Peza, many of the people hardest hit by the earthquake were already living in poverty. The earthquake turned difficult situations into desperate ones, and desperate situations into emergencies, easily overlooked in a disaster of this scale.
Nehemiah Gateway is partnering with Profamilja, a small Albanian NGO based in Peza, to bring relief to earthquake survivors like Tahir and Naim's families. Since the earthquake, ProFamilja has worked with volunteers to supply tents for all sixty-three families, disbursed ten tons of food packages, distributed 1,700 blankets, worked with World Central Kitchen to serve 25,000 hot meals, and provided 100 pairs of shoes to school children in need.
Your donation helped families like Tahir's and Naim's get through the first two months following the earthquake. At this time, Profamilja is starting to help people rebuild their homes. You can help the rebuilding effort by continuing to support this campaign at https://www.globalgiving.org/projects/aid-for-albanian-earthquake-survivors-1/
Thank you very much for your compassionate and generous support.
All the best,
Sarah Pita