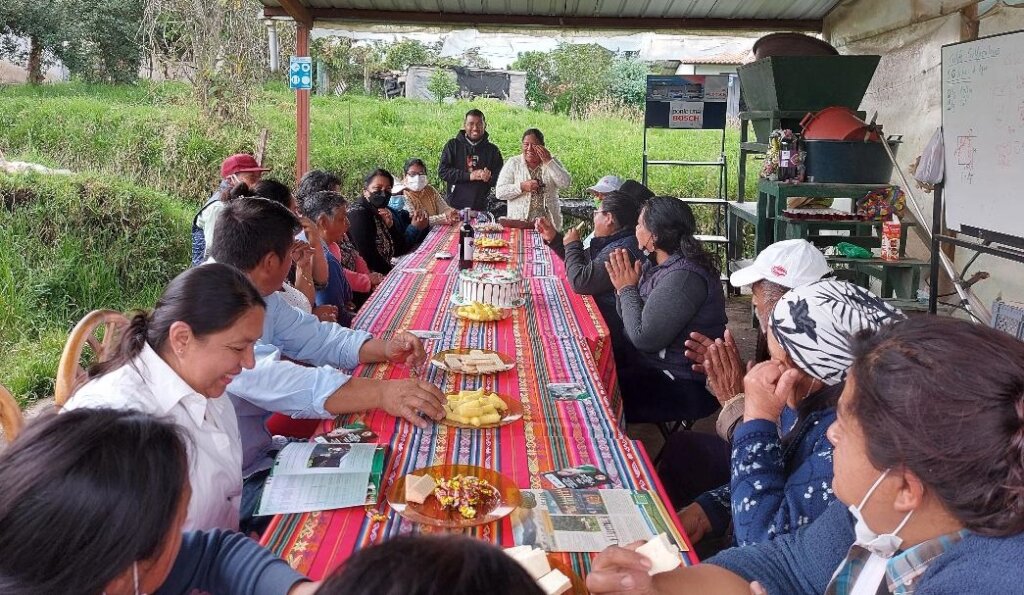 Christmas 2021, Pintag: After months of pandemic, around 20 producers and friends of the Mushuk Tukuy Network, share a Christmas celebration. Despite the multiple biosecurity measures, and the persistent fear of a pandemic that still attacks the city of Quito, the producers wanted to celebrate: since the first steps of Mushuk Tukuy Network, its action has been able to consolidate and begin to grow, after the harsh months of sanitary isolation. And this thanks to friends and allies, like you, who maintained your support and faith in the project.
Between November and December, technical training workshops have been held (textile crafts, agro-ecological fertilizers and non-industrial yogurt); an evaluation of touristic potential of some farms, has been carried out. We are now making adjustments to the current trade model, and thanks to your contribution, the contracting process of the E Commerce platform has also started.
Specifically in San Isidro Farm, Píntag, a common space for the strengthening of the network, a series of improvements in basic infrastructure and equipment are about to be completed, to enhance the productive activities of our partners (incubator, seedling production area, vermiculture).
Certainly complex challenges still remain, such as improving the network's own organization, its leadership and work agreements; or the permanent challenge of improving sales. Challenges become new opportunities to build our common dream.