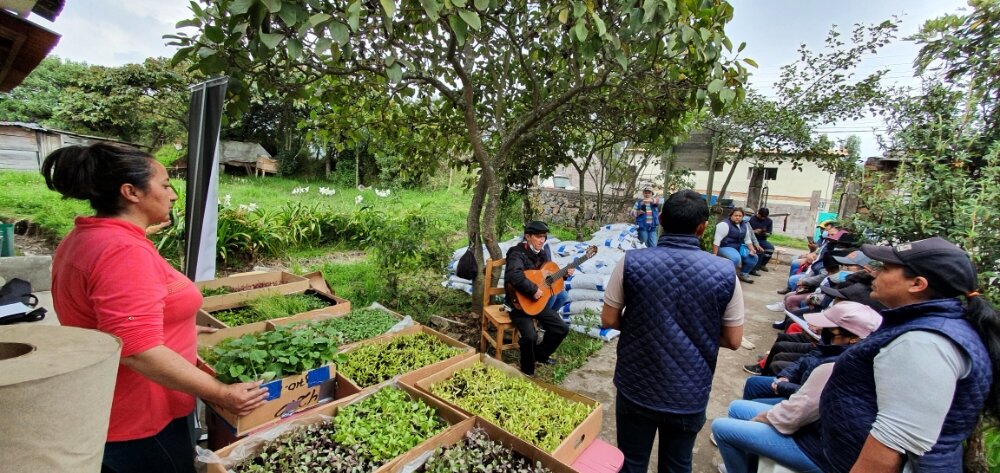 Since our last report, we are happy to tell you that the recovery of San Isidro Farm, demonstration center of the Mushuk Tukuy network, begun with various support activities, such as space planning, care of common spaces, reception and distribution of fertilizers and seedlings (in alliance with Provincial Government of Pichincha). We were also lucky to agree with new friends from the Network, the responsibility of the permanent care of the Farm.
Unfortunately, in the middle of the Network's work process, last June, a wave of protests led by the Ecuadorian indigenous movement, paralyzed the country for almost 18 days, protesting against state policies and the levels of unemployment and insecurity. Although this episode generated an important process of national dialogue, it also affected the economic and productive work of Mushuk Tukuy, located in Píntag, one of the most active areas in this cycle of protest.
Once the difficulties were overcome, we managed to resume the tasks of repowering infrastructure, production equipment (motor cultivator, power trimmer) and new projects (egg incubator) to promote the Network's action.
Perhaps the most striking and important moment was that, after a complex process of dialogue and negotiation with collective community actors from the central zone of the country (Chimborazo), an agreement was reached with indigenous community association Asosumllam, for the purchase and technical assistance for the adaptation and care of 6 Andean camelids (alpacas), as a tourist attraction and an alternative form of sheep farming, to promote new entrepreneurial initiatives. The animals arrived at Píntag this August, and they are finishing their period of climatic and nutritional adaptation, happy and healthy!