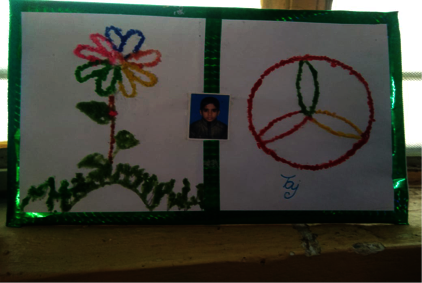 Dear Maitri Friend,
It has been an exciting quarter for our Afterschool Programme. We bring you highlights and recent update on the project.
Maitri School provides afterschool classes to community children studying from class 1st to 10th. There are more now 120 children studying in Maitri Schools. Maitri School is a supportive education school, where children from the slum communities who go to state Government schools and thereafter come to Maitri for enhancement and problem solving. Maitri School has been established with the aim of providing a platform for slum children to be at par with children from other schools, compete and ensure zero drop out rate while giving them skills and opportunities to learn new sporting activities. Students from the slums have a challenge of space at their home and may not be able to concentrate as much as they would like, Maitri provides that space and motivation.
Celebration of Yoga Day & Independence Day
On 21st June, the students of Maitrigram, celebrated Yoga Day. What was unique were the children who knew all the steps and there was so much more to learn from them as compared to teach them. In the end, the participants themselves explained about the benefits of yoga and advised to practice on daily basis to be healthy and happy. Children also actively participated on the ocassion of Independence Day, advocating on the importance of peace, trust and respect.
Dance Out of Poverty
Maitri has started dance classes through an iniative " Dance Out of Poverty" which advocates for Right to Dance , equal rights to get dance education for all, irrespective of their backgrounds. Under this, they provide give free dance education to all the students who wish to learn dance but have no prior knowledge of dance. This comes as a great oppurtunity for our children who are looking for a platform to sharpen their skills.
Learning through art
In salt painting art session, students prepared beautiful drawing and painting with salt and colors where they draw a sketch on a white sheet and filled it with adhesive fevicol. After that, they sprinkle salts on it and then painted with beautiful colors. It was a beautiful experience for all the students where they learnt a new process in drawing and art. All of them seems very excited to participate the activity. In addition to that the children have come up with an acitivty where they draw for their friends, family and community. They make greeting cards, posters and insists on creating messages that can build a positive environment.
Half yearly exams on the way
Half Yealry examinations will start next month and preparation is in full swing. Children are motivated and working towards each exam without stress. Our aim is to support them with their problem solving abilities without any stress and tension. We are confident our students will do well and come out with flying colours. We wish them all the best.
Skill development and Job placement through Teach India
"I just want to be able to make my parents proud" said a 21-year-old learner".
Maitri feels proud to share that 26 young girls and boys from Maitrigram graduated in Spoken English facilitated by Teach India and 25 of them who were a part of the placement have all secured jobs with MNC's. 27 different companies like TATA starbucks, Eureka Forbes, Haldiram, etc have offered them jobs. It's great to see the confidence of the learners who are now encouraging their friends and family members to take the course. 9 of the learners have been a part of the play organized by Teach India and this entire process has bolstered the spirit of everyone.
Thank you to the team of Maitri who were involved in mobilization, encouragement and were a source of constant motivation for the learners. Thank you to the team of Teach India who have made a difference and provided them with a skill that stays for life. Thank you to the learners who have taken the opportunity to different levels.
The children from the community, that we work with have limited educational and employment opportunities and face discrimination based on gender, poverty and caste .We are grateful to your support to children Because of you they can grow in a safe and learning environment and explore opprtunities. Thank you once again!